Look Out Below YUM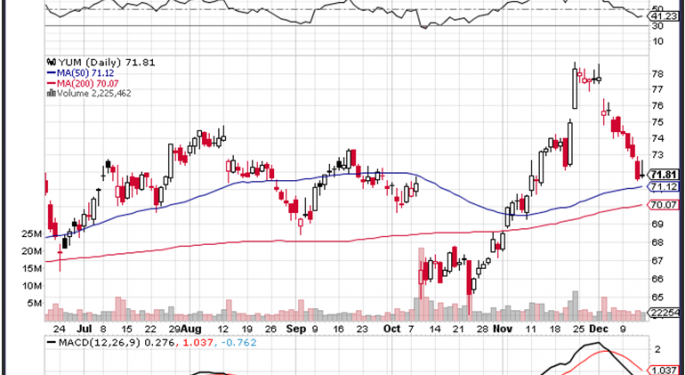 YUM! Brands (NYSE: YUM) have suffered through a recent soft patch but could the trend in fast foods be fading. Earning for the company were relatively week in the past quarter and sales comps show declining appetite for many brands in China.
The 52-week range for the stock price is $ 59.68 - $78.68. Earnings per share over the last quarter declined 14%, and the three-year growth rate of earnings is a positive 9%. Sales declined 3% quarter over quarter but the 3-year sales growth rate is up 7%. The company has a 136% debt to equity ratio and a profit margin of 15.3%.
Recent insider sales of Yum are noticeable and bearish for price action. David C Novak the CEO and Chairman sold nearly 321,000 shares of the stock on December 9, 2013 for a total value of almost 24 million dollars.
The technical picture shows negative price action and indicators that back up a decline. The 5-day moving average recently crossed below the 20-day moving average which shows that a short term negative trend is in place. Additionally, momentum is negative and accelerating. The MACD (moving average convergence divergence) index has generated a sell signal. This occurs when the spread (the 12-day moving average minus the 26-day moving average) crosses below the 9-day moving average of the spread. The index has moved from positive to negative territory confirming the sell signal.
At the money implied volatility for YUM is trading near 22% which is in the bottom of the 52-week range. The implied volatility range for options on the stock is from 22% to 35%, which reflects the complacency of investors in this stock.
The preceding article is from one of our external contributors. It does not represent the opinion of Benzinga and has not been edited.
Posted-In: Markets Trading Ideas
View Comments and Join the Discussion!