Can Banks Profit in a Higher Rate Environment Given Expanding Regulations?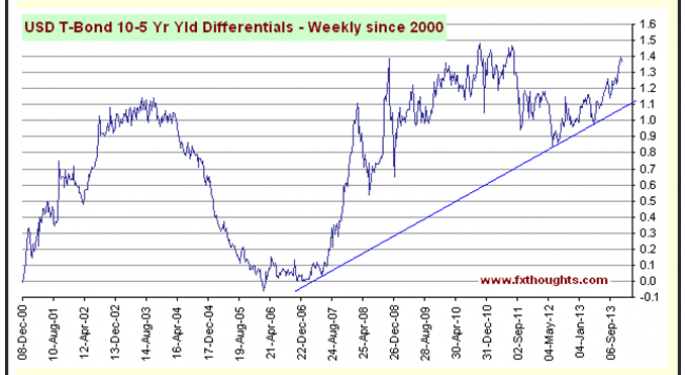 Banks have been on the hot seat since the financial crisis in 2008 and continue to feel the pressure of increased regulations. Financial institutions will face a revamped Volker rule which is scheduled to be approved by regulators on Tuesday December 10, 2013, and given recent stronger economic data could face a challenging interest rate environment. The question is whether major financial institutions will benefit from higher rates and a yield curve which could continue to steepen in the near future.
The Volker rule is expected to be approved by regulators on Tuesday, December 10, 2013. There are 5 agencies that need to adopt their own version of the rules, which is why this rule has taken time to integrate. The new rule will place more restrictions on hedging portfolios, as well as, greater restriction on what is considered proprietary trading. Proprietary trading is considered trading of funds of the bank for their own benefits which is difficult in some cases to compartmentalize. For example, if a market maker takes on risks from a client that cannot be hedge immediately, will the Volker rule consider this position proprietary trading.
On Monday, there were a number of reports of regulators examining bank practices in China which further places the spotlight on bank activities. Many site reports that the Security and Exchange commission is planning on expanding its probe into hiring practices at banks in China. The SEC is looking at whether the banks breached laws relating to foreign bribery by recruiting the family members of government officials in order to win business. According to sources the probe into JPMorgan's (NYSE: JPM) hiring activities in China has uncovered an email showing a specific relationship between winning government projects and the bank's hiring practices.
One of the key issues that financial institution will face in the months to come is whether banks can be profitable in a rising rate environment. Interest rates at the long end of the curve will likely move higher as economic activity reflects stronger results as it did this past week, after a better than expected payroll report. November's ISM activity was also robust, and Q3 GDP at 3.6% was much better than expected. The Federal Reserve has made it clear that tapering its bond purchase program is not the same thing as tightening which will keep the short end on the US interest rate curve pegged to Fed Fund rates until the Fed unwinds its quantitative easing program. So even though longer term rates will likely rise, the yield curve will probably continue to steepen, as short term rates remain stable.
A steepening yield curve will help financial institutions, as they can borrow short and lend long and profit from the expansion of the yield curve. A steeping curve environment will likely be beneficial to financial institutions and should help banks expand profit margins despite a rising rate environment.
Financial have lagged the broader market during most of 2013, but expanding economic activity and a steepening yield curve, as well as increasing confidence in many financial institution given increased regulatory scrutiny could give banks a lift and drive profits in 2014.
The preceding article is from one of our external contributors. It does not represent the opinion of Benzinga and has not been edited.
Posted-In: Markets Trading Ideas
View Comments and Join the Discussion!