Which Would You Rather…Microsoft vs. Apple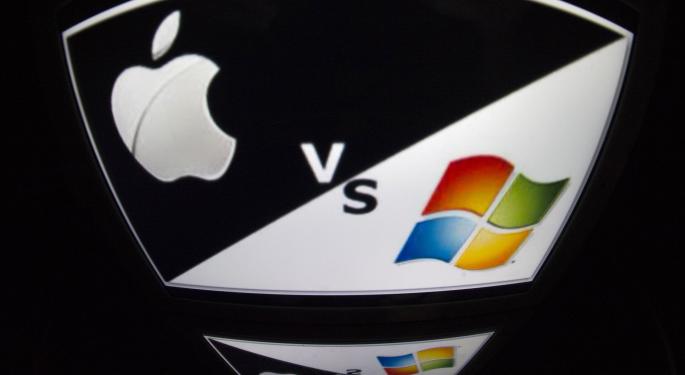 It can be challenging to pick just one stock to add to your portfolio, when your choices are between two companies that each have a strong position in the market.
Whether it's between Coke and Pepsi, Nike and Reebok or Honda and Toyota, picking a clear winner in the stock purchase game isn't always a cut-and-dried decision. And now you can add one more rivalry to the mix -- as countless comparisons have been and continue to be made between tech giants Microsoft (NASDAQ: MSFT) and Apple (NASDAQ: AAPL), and debate has raged on many a trading floor about which is the better stock to purchase.
So the question we ask, flat out: Which would you rather add to your portfolio, Microsoft or Apple?
It seems that, when most analysts and "experts" are approached with that problem, they tend to immediately go with Apple. One of the main reasons for this choice is that Apple has proven to be more popular with hedge funds than Microsoft, although admittedly not by much.
But there are other reasons why Apple can often look like the better investment, especially as of late. The company has shown a 35 percent revenue increase each year over the past five years, on top of 60 percent annual net income growth. Five years ago shares of Apple were trading in the mid-$60 range but have recently been trading in the mid-$500 range.
Conversely, Microsoft has been the subject of a certain amount of ridicule in the stock price department. Many analysts believed its price a decade ago to be ridiculously high, even for Microsoft. That sentiment has done a complete 180 over the years  -- to the point where now it is considered to be priced ridiculously low, barely scraping the $40 mark at the close of trading on the last day in November.
And while Apple is the higher-priced and better performing stock right now, for most analysts Microsoft is actually the preferred investment; due to the stock's low valuation. Also, despite the fact that Apple stock is valued as it is, it is unclear how it is going to perform in the near future.
Few people have been terribly impressed with Microsoft's profits or its overall corporate infrastructure. But having recently launched a bevy of new products, it seems there might be a change in perception in store for the PC maker.
Perhaps more significant than new products, however, is the tremendous brand loyalty that Microsoft enjoys. Actually it may not so much be brand loyalty as it is product loyalty. People who use PCs are typically very reluctant to switch to Mac -- which keeps Microsoft in a comfortable lead over Apple.
But with its increasingly popular line of iOS products, including the iPod, iPad, and iPhone, Apple is clearly poised for success for the foreseeable future. So which is the better purchase for your stock portfolio? The answer to that may just depend on whether you are reading this article on a PC or a Mac.
Posted-In: consumer electronics electronics Personal computers social media devicesMarkets Tech
View Comments and Join the Discussion!