Ocean Power Technologies PowerBuoy Technology Advances On Agreement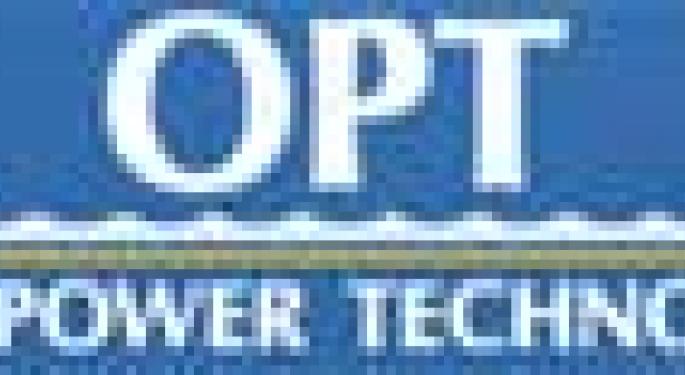 Ocean Power Technologies, Inc. (NASDAQ: OPTT)

Just when I thought the stock market couldn't get any better, as dow decided to move up 79.99 points (+0.52%) to 15,493.32 Thursday October 24, 2013 11:46AM. I decided to do a article on Ocean Power Technologies ticker OPTT. Ocean Power Technologies has soared up (+80.61%) with a $1.33 gain at $2.98 October 24, 2013 11:52AM. For those that did not realize to get in on this one earlier, if you would of had 76 shares of this stock this morning you might have made over one hundred dollars profit before tax. Stock symbol OPTT is a pioneer in wave-energy technology that harnesses ocean wave resources to generate reliable and clean and environmentally-beneficial electricity. Ocean Power Technologies, Inc. (www.oceanpowertechnologies.com) announced 4 hours ago that they have signed a new agreement to cooperate in the development and commercialization of Ocean Power Technologies PowerBuoy(R) technology.

Ocean Power Technologies PowerBuoy(R) technology is designed to transform ocean wave energy into useable electrical power for utility-scale grid-connected applications, which can be positioned in arrays scalable to hundreds of megawatts. What make this really tender and juicy is that under the terms of this agreement, Mitsui Engineering & Shipbuilding Co., Ltd. has the licensed entitlement to sell Ocean Power Technologies PowerBuoys for both grid-connected utility and autonomous applications in Japan, the Philippines, Malaysia, Vietnam, Mozambique, South Africa and Namibia. In addition, under the terms to be agreed by Mitsui Engineering & Shipbuilding Co., Ltd. and Ocean Power Technologies, Ocean Power Technologies also will sell to Mitsui Engineering & Shipbuilding Co., Ltd. the Power Take-Off systems to be integrated in all PowerBuoys sold by Mitsui Engineering & Shipbuilding Co., Ltd..

Ocean Power Technologies, Inc. ("OPTT", "Ocean Power Technologies" or the "Company") has a strong track record in the advancement of wave energy and participates in an estimated $150 billion annual power generation equipment market. Ocean Power Technologies proprietary PowerBuoy(R) system is based on modular, ocean-going buoys that capture and convert predictable wave energy into clean electricity. The Company is widely recognized as a leading developer of on-grid and autonomous wave-energy generation systems, benefiting from more than 15 years of in-ocean experience. Ocean Power Technologies is headquartered in Pennington, New Jersey, USA with an office in Warwick, UK, and operations in Melbourne and Perth, Australia.

Remember: Always do your homework and consult your own financial professional.

Read Full Disclaimer @ http://crweselect.com/disclaimer/
The preceding article is from one of our external contributors. It does not represent the opinion of Benzinga and has not been edited.
Posted-In: Markets
View Comments and Join the Discussion!