Twitter IPO: Will Infamous Whale Picture Show Up?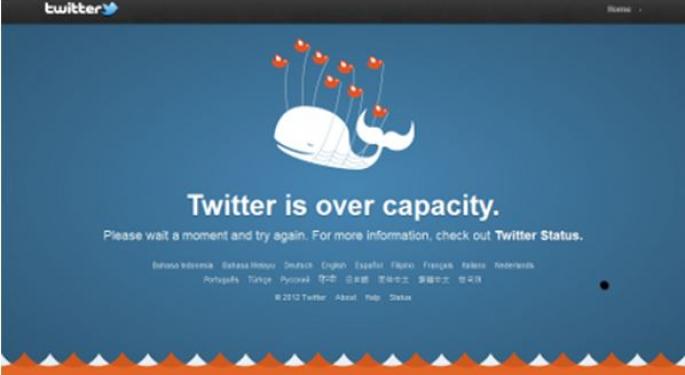 While the Fail Whale Haunt the Upcoming Twitter IPO?
If you're familiar with Twitter (NASDAQ: TWTR) at all, you've probably seen the "fail whale" at least once or twice. This is the graphic of a large whale being carried aloft by a flock of small birds with the message "Twitter is Over Capacity" or something else explaining the problem. With the Twitter IPO on the horizon, some are wondering if the fledgling social media company will be able to do better than Facebook did back in 2012.
NYSE for IPO: Twitter is Not Facebook
When talking about the upcoming Twitter IPO the first thing you need to realize is that this social media company is not the same as Facebook (NYSE: FB). In fact, they're quite different. Upstart Business Journal has reported that Twitter is using the NYSE instead of NASDAQ for their Initial Public Offering.
Learning from Facebook's Mistakes
One of the things Twitter has going for them is that they were able to study Facebook's IPO closely. This has most likely given the company a better chance of not repeating mistakes the other social media company made. For example, Facebook (NYSE: FB) may have waited to long to have their IPO. This made it more difficult to show that they would have explosive growth after getting on the market.
Another mistake that Facebook made was setting their initial price so high. While they have finally moved past that early number, they were stuck in a rut for quite a while. If Twitter uses this to set their asking price more realistically, they may be able to do better right out of the gate.
Bumpy Road Ahead
While Twitter may have been able to study Facebook's IPO closely and can try to avoid some of the mistakes they made, they have other problems to worry about as well. One is that they recently reported their worst quarterly loss in three years. This is not good news when you're about to go public. Even worse, there's no real indication that Twitter has a solid plan to reverse the recent trends.
Twitter Q3 2013 numbers were negative $65 million, which is about three times the amount they were in the red in the same quarter in 2012, according to a report by ABC News. No mention of when the IPO - one of the most anticipated in a while - will happen or what the IPO price of the stock will be, but some think this information may be known before Thanksgiving this year.
At the same time, Twitter (NASDAQ:TWTR) has never said they were worried about monetizing their social media network too heavily. They've taken steps to sell their own ads and marketing to companies, but their native advertising hasn't been as successful as they had hoped. Still, looking at other numbers - like traffic - it's hard to see how they can continue to lose money for much longer.
The social media company hasn't had a profitable month since they started about eight years ago. To date they've lost close to $500 million. Monetizing their large network of users needs to be one of their priorities if they're going public. Whether or not this happens, however, is another story entirely.
Life After the Twitter IPO
Whatever happens on the market, life will undoubtedly continue after the Twitter IPO. Some people may make money by getting in early while others may lose money by trying to be too greedy. Either way, many signs point to the social media company having a successful IPO. And you can be sure many people will be writing about it all over the Internet.
Mashable has reported that Twitter is trying to act more like Google before and after their IPO rather than emulate Facebook. The tweet the company sent out immediately after their IPO announcement was one telling their employees to get back to work. In many ways, they see it as just another round of funding rather than a radical change in the way the company operates.
Having said that, the fact that Facebook (NYSE: FB) stock prices have been going up is good news for Twitter, which may be able to pull off an IPO that will go down in the history books. And if not, maybe they can just throw up a billboard and run an ad campaign featuring their fail whale apologizing for not being able to handle the IPO.
The following article is from one of our external contributors. It does not represent the opinion of Benzinga and has not been edited.
Posted-In: Markets Trading Ideas
View Comments and Join the Discussion!