Biogen Biotech Trade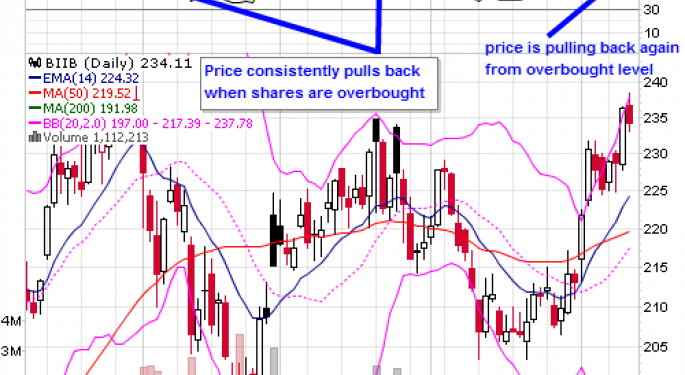 Biogen Idec, Inc. Credit Spread (Nasdaq: BIIB)
TheOptionPlayer.com recommends a Biogen Idec (BIIB) short-term (8-day) option strategy. Investors could simultaneously:
Sell the Sept week-three expiration BIIB $245 call for $1.13 (yesterday's closing price)
AND
Buy the $250 call at $.55 (yesterday's close)
The difference between funds received and paid out is a $.58 per share credit which we keep if Biogen stock closes below $245 on Friday Sept. 21st, but immediately exit the position if it appears the price will end up higher. Another suggestion is if the price gaps higher in the morning open the trade using higher strike prices. See Guidelines page at www.theoptionplayer.com/ for explanation on how trade is set up.
Why we recommend it:
Biotechs have been getting a lot of attention from investors and analysts alike as they post strong growth and receive FDA approval for new drug therapies. Biogen Idec, Inc. (NasdaqGS: BIIB) earnings had been slowing in recent quarters, but during Q2 it announced revenue from its new multiple sclerosis drug Tecfidera was $192 million, nearly three times what analysts were expecting. Shares have risen 51% on the year to close at 228.69 in the stock market Tuesday. Biogen has been consolidating since late May, but the recent announcement of several collaborative deals with other biotech companies gave the stock a big boost a few days ago.
As seen is the chart below, Biogen Idec, Inc shares currently are overbought as defined by the Relative Strength Indicator (RSI). The chart also indicates the stock price appears to be already starting to pull back as shares consistently drop hard from the current overbought level. At the very least there is a high probability that Biogen stock will remain below the $245 target for another week.
52-Week High: $242.64
52-Week Low: $134.00
Average Volume (3 month): 1,285,520
The following article is from one of our external contributors. It does not represent the opinion of Benzinga and has not been edited.
Posted-In: Markets Trading Ideas
View Comments and Join the Discussion!