My Corporate Earnings Forecast for the 2nd Half of 2013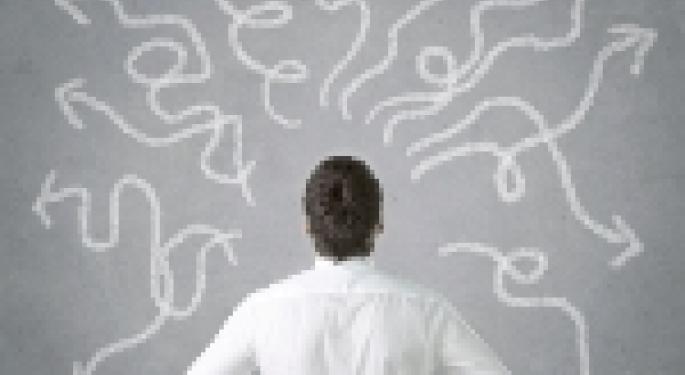 With corporate earnings season fully underway, the equities market is continuing to move skyward, and you're probably thinking to yourself that it's smooth sailing from here.
But hang on. Let's not jump to conclusions so fast; there is more than meets the eye.
The equities market needs a growing level of corporate earnings to maintain its current valuation level. Essentially, you wouldn't pay more for a company if its earnings were about to decline. I think we might be reaching a level in the equities market where earnings are being overvalued.
There are signs that the equities market might be pricing in a far too optimistic picture for the near future. As an example, of the 263 companies that have reported their corporate earnings so far, 43 firms have issued negative guidance for their corporate earnings, with 11 companies increasing their earnings guidance. (Source: "Earnings Insight," FactSet web site, July 26, 2013, accessed August 1, 2013.)
What this tells me is that companies are cautious regarding the second half of 2013 and their ability to continue growing corporate earnings at an accelerated rate. If the equities market is pricing in a continuation of strong earnings, investors might be disappointed later this year.
Also Read: NYSE Holidays 2013
While the current quarter of earnings appears to be strong on the surface, digging deeper shows an interesting anomaly. So far, 73% of companies' earnings have beaten estimates, which the equities market obviously likes, and this has helped boost the market higher.
We all know how the corporate earnings game works: estimates are lowered so that companies can report that they exceeded what was expected. But companies exceeding lowered estimates isn't what I found interesting this earnings season. Historically, the four-year average by which corporate earnings have exceeded estimates is seven percent. So far this earnings season, firms that have exceeded corporate earnings estimates have done so by only 3.2% in aggregate, the second-lowest level since the first quarter of 2009.
Essentially, this tells me that earnings are just barely beating estimates. The economy and the equities market are very cyclical. Coming from the bottom of the recession, corporate earnings exploded higher through a combination of cost-cutting and a low hurdle of exceeding the previous year's reported earnings data.
Now that most companies are lean, with little else to cut, the equities market needs firms to start generating a significant increase in revenues if earnings are set to continue rising. So far, the current crop of corporate earnings is barely beating estimates versus their historic average over the past few years. We could just be witnessing a cyclical top in corporate earnings.
Obviously, if the economy continues to improve, then firms should be able to increase their earnings through higher revenue growth. But, you should know that current investors in the equities market are paying top dollar for stocks, which means that much of the good news has already been priced into the market.
I prefer to buy stocks when others are selling them at attractive valuations, not when the equities market is priced to perfection. It will be interesting to see the rest of the firms release their corporate earnings guidance for the remainder of the year, to gauge how optimistic they really are. Either way, corporate earnings will need to increase substantially to justify the current valuation in the equities market.
This article My Corporate Earnings Forecast for the 2nd Half of 2013 was originally published at Investment Contrarians
The preceding article is from one of our external contributors. It does not represent the opinion of Benzinga and has not been edited.
Posted-In: Markets Trading Ideas
View Comments and Join the Discussion!