Weak Global Economic Growth Hits McDonalds; What's Next for Your Stocks?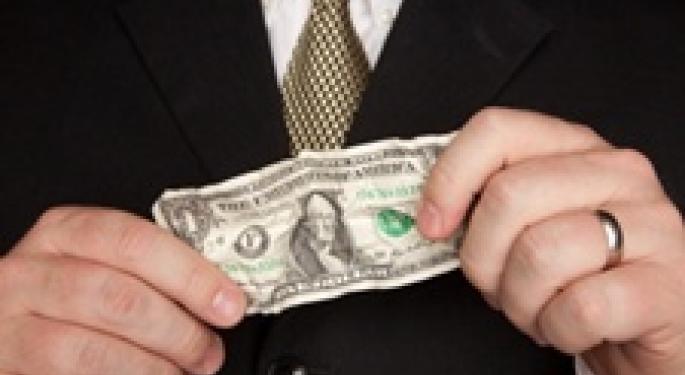 By Sasha Cekerevac for Investment Contrarians
One of the biggest worries for investors is the anemic economic growth globally. This has made it extremely difficult to generate corporate earnings going forward. As investors, we are constantly looking for signs that a firm has the ability to increase corporate earnings substantially for the near future.
Ultimately, for corporate earnings to move upward, revenues need to increase as well. With the lack of economic growth internationally, this is becoming a serious problem.
As an example of the extent of weak economic growth internationally, McDonalds Corporation (NYSE: MCD) posted a drop of 0.6% for comparable same-store sales in April. (Source: "McDonald's global comparable sales decreased 0.6% in April," McDonalds Corporation web site, May 8 2013, accessed May 13, 2013.)
The company saw its comparable same-store sales in Europe decrease by 2.4%, and the Asia-Pacific, Middle East, and African (APMEA) regions reported a 2.9% drop in same-store sales. Most analysts were expecting a drop of only one percent in Europe and a 1.4% drop for the APMEA region.
A positive note showing the disparity in economic growth was that same-store sales for the U.S. increased 0.7%, versus expectations of a slight decline. As weak as the U.S. is regarding economic growth, much of the rest of the world is in worse shape.
One worry for investors looking at the potential for corporate earnings growth is that much of the sales push by McDonalds has been in lower-priced items. This means that, while revenues might be running at a similar pace, margins will drop.
The chart for McDonalds is featured below: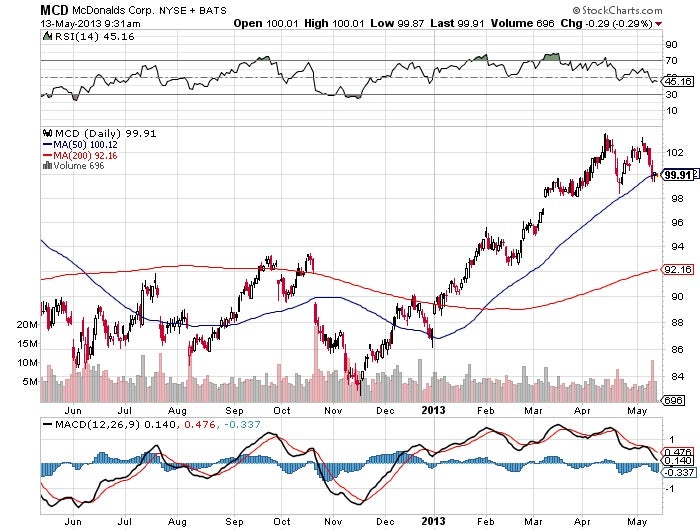 McDonalds' stock has performed quite well over the past few months, although it appears that the weak economic growth internationally is now starting to hit revenues and ultimately corporate earnings.
While not everyone who invests in McDonalds stock is primarily after corporate earnings growth, since the company does pay a strong dividend yield of approximately 3.1%, at some point, both revenues and corporate earnings do need to increase.
With very little sign that economic growth internationally is about to re-ignite, many stocks that have shot upward on expectations of a brighter 2013 might be susceptible to a significant pullback. If a company such as McDonalds that caters to the lower-end demographic can't increase corporate earnings, this is clearly a sign that economic growth remains extremely sluggish globally.
With central banks around the world continuing the easy monetary policy, a company such as McDonalds gives us additional information that this money printing is not having an effect on the lower-tier customers.
Before beginning to accumulate McDonalds stock, I would want to see further signs that show economic growth is beginning to accelerate internationally. Until that point, corporate earnings might be susceptible to downward revisions throughout the rest of the year.
This Article Weak Global Economic Growth Hits McDonalds; What's Next for Your Stocks? was originally published at Investment Contrarians

The preceding article is from one of our external contributors. It does not represent the opinion of Benzinga and has not been edited.
Posted-In: Markets Trading Ideas
View Comments and Join the Discussion!