Why Short Selling Can Be Viewed as Bullish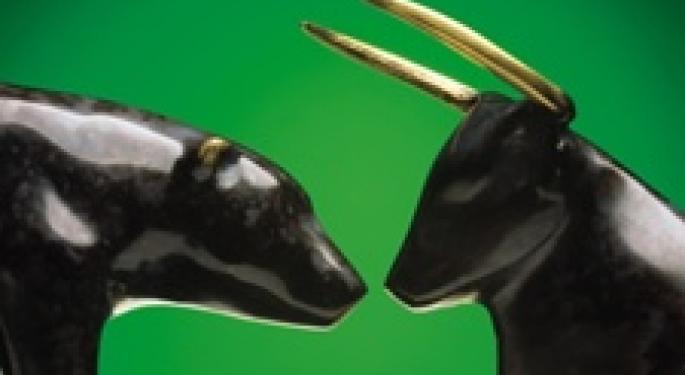 By George Leong for Investment Contrarians
Traders bearish on stocks often employ a short selling strategy and hope the stock subsequently declines in value, thereby profiting off of the difference between the initial shorted price and the lower price at which the short trader hopefully buys back the stock.
While some argue that stocks with large short positions are bearish, I would counter that by saying heavy short selling means there's an opportunity to make money on the stock.
When a shorted stock with heavy short selling begins to rise in value, you will likely see a big influx of short sellers moving back into the market and buying back the shorted stock to replace the initial position. If enough short sellers do this, a short squeeze would likely materialize, helping to drive up the price of the stock in the market.
So while stocks with heavy short exposure are viewed as bearish by many, I often take the contrarian view and look at these heavy short stocks as long opportunities to make some quick money.
A classic case of a short squeeze is the shares of Groupon, Inc. (NASDAQ/GRPN). Trading at $2.60 in mid-November, the stock has since surged 150%, and part of this upward move was driven by the significant short exposure in the stock. As of March 28, 2013, there were 41.7 million shares shorted on Groupon, or 20.1% of the float.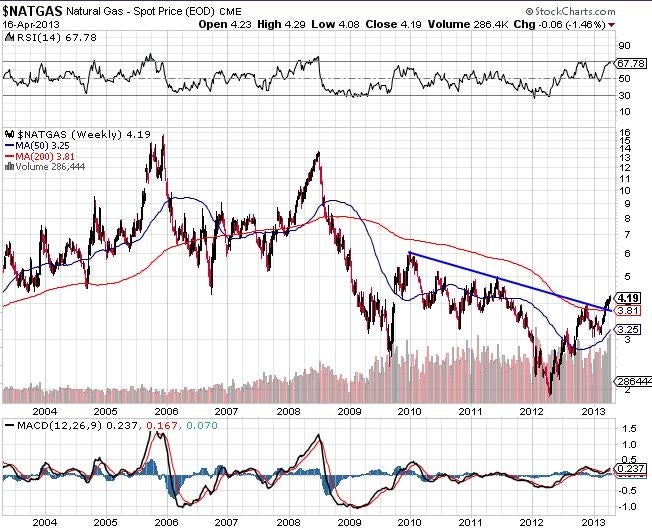 Groupon is just one example of a stock with heavy short selling exposure, but there are many others.
Two of the top-five short selling positions as a percentage of the float are Tesla Motors, Inc. (NASDAQ/TSLA) with 62.9% of float, and Coinstar, Inc. (NASDAQ/CSTR) with 42.7% of float.
Tesla Motors is a pure momentum play for traders, but, if the company can deliver, we could see a big push in the share price. The company is losing money now, but it is expected to turn a profit this year and next on decent revenue growth. Tesla Motors is worth looking at for a possible short squeeze and is already near its 52-week high. The company's stock chart is below: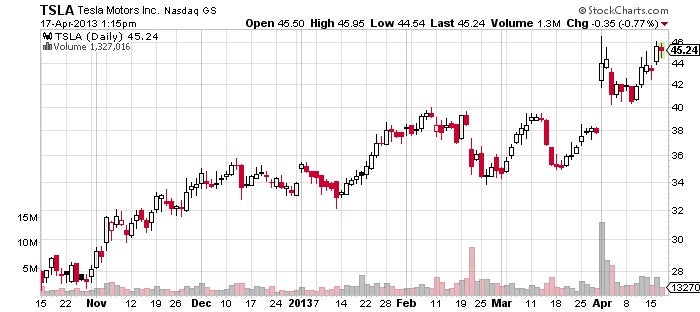 An operator of movie kiosks, Coinstar was my personal pick, and we made tons of money riding the wave upward. Yet the Thomson Financial estimated revenue growth of 9.9% and 4.3% for 2013 and 2014, respectively—while OK—is nothing spectacular. By comparison, rival Netflix, Inc. (NASDAQ/NFLX) is expected to better grow its revenues at 18.1% and 15.4% in 2013 and 2014, respectively. While there's still some upside in Coinstar, the stock is also one bad report away from a short selling squeeze opportunity. Coinstar's stock chart is featured below: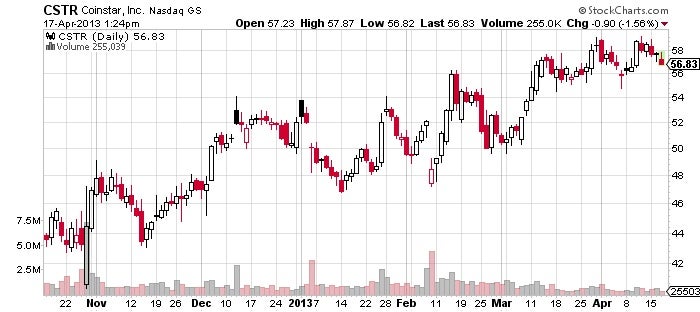 The remaining three of the top-five potential heavy short selling squeeze candidates are:
• magicJack VocalTec Ltd. (NASDAQ/CALL), 43.1% of float;
• Uni-Pixel, Inc. (NASDAQ/UNXL), 48.9% of float; and
• Vera Bradley, Inc. (NASDAQ/VRA), 51.9% of float.
This Article Why Short Selling Can Be Viewed as Bullish was originally published at Investment Contrarians


The following article is from one of our external contributors. It does not represent the opinion of Benzinga and has not been edited.
Posted-In: Markets Trading Ideas
View Comments and Join the Discussion!