Trading Update March 20th
Markets traded in a very tight range today despite the release of the FOMC minutes in the latter portion of the session. Bernanke made no unexpected comments and confirmed the current course of their QE programs as well as the U.S. economy. Investors really had no information with which to price in to the equity markets so we just sat within the range until the close.
Oracle (NASDAQ: ORCL) reported earnings after the close and the reaction was pretty negative. The stock closed around $35.75 and is now trading under $33. This brought the Q's down as well after the close and several tech names are trading lower in the after hours session. Will this weakness influence tomorrow's action? We'll have to wait and see.
Moves today were few and far between but one in particular was quite profitable. Las Vegas Sands (NASDAQ: LVS) long…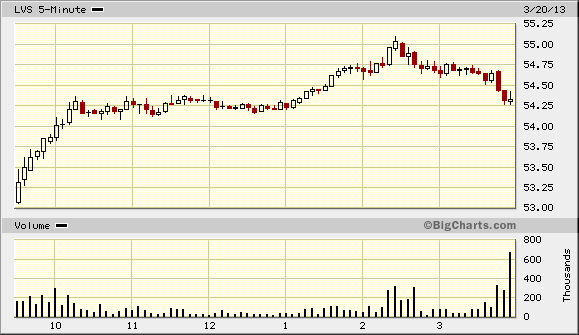 The stock has been sitting in a range around $53.50 for several days now and the Casino sector in general has been relatively bullish versus some of the major large-cap sectors like the Financials. WYNN Resorts (NASDAQ: WYNN) also booked a pretty solid day in gains and you can see that these names brokeout pretty nicely to the upside today. The weekly calls in LVS yielded some serious percentage gains as you can see in the below chart.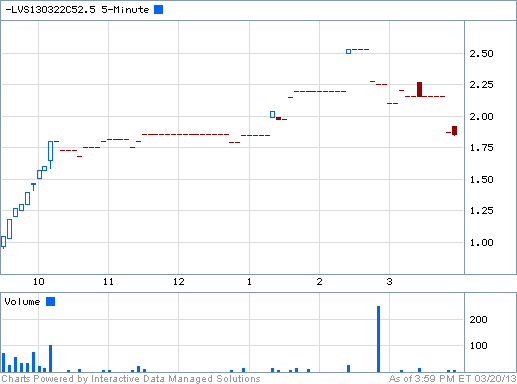 This contract above only traded about 900 contracts while the strike after, the $55, traded around 3,000 contracts. Clearly, there was some money to make here and this stock was one of the select few that traded without the influence of the broad indexes. Sometimes, you just gotta find the right horse…
Stick with Lucci!
The following article is from one of our external contributors. It does not represent the opinion of Benzinga and has not been edited.
Posted-In: Markets Trading Ideas
View Comments and Join the Discussion!