Monster Rally Monday!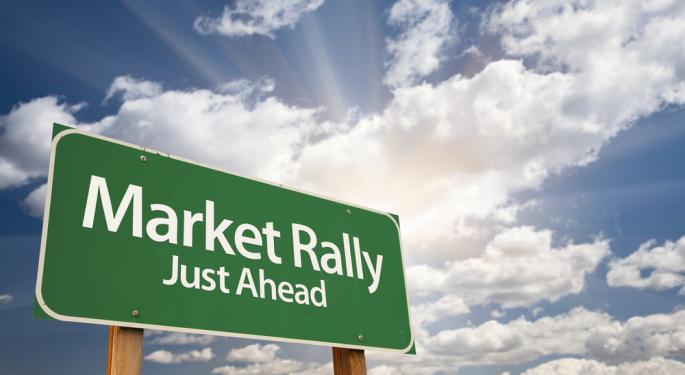 Are you following BookingAlpha on Twitter? Check us out at @BookingAlpha and gain even more insight to our thoughts, plans, and trades.
We received the following email question today and thought it would be a good opportunity to communicate our thoughts on this Monster Rally Monday:
Email Question:
"Strong rally today. I am not sure if this rally can be sustained. Do you want to take advantage of this rally by opening a bear call spread position on one of the indexes?"
Response:
At this point, with the market this giddy, it's not wise to step in front of a potential speeding train as the strongest rallies occur in downtrends. Our analysis indicates we could see SPX 1400 before end of week.
As we have mentioned, at this current time, all the market needs is the HOPE of some progress on the fiscal cliff. That is what is happened Friday and is spilling over to today. With "Turkey Time" on the brain and trading volumes shrinking through the rest of the week, the rally may be able to build on itself. The market could continue northward on a rocket ride with the smallest "positive" comment uttered from Washington. That is why we do not want to get short this rally via selling call spreads quite yet.
The possibility of SPX 1400 this week is real. Doing so that quickly MAY be an opportunity to sell some calls but right now it is just too soon. Here's why:
1. Dec is a long options month; 5 weeks vs the typical 4.
2. Dec premiums are not attractive (juicy) enough here to start selling, especially with 5 weeks left, considering markets are still oversold.
3. Market volatility is expanding while options prices (and the VIX) are contracting
Markets are still oversold despite today's bounce. The S&P is simply back to the 200 Day MA with this bounce which is where it was 5 days ago (last Wed). The market will probably waffle above/below the 200 Day through the end of the week and premium will begin being sucked out of options starting tomorrow around the middle of the day as Market Makers roll forward their books to next week.
At this point, the BookingAlpha strategy is to most likely sit on our hands this week and let the soon to accelerate Thanksgiving Holiday premium decay erode our current positions to our benefit. Although we are now holding front month (Dec) spreads, if the market holds up or continues to rally we will hold what we have to let the premiums further decay.
If the market resumes its downward trajectory, we will then likely roll the spreads to January for additional credit at lower strikes to mitigate risk and increase available premium to allow for enhanced decay [profit]. But either way, whether Dec or Jan spreads, selling calls today specifically does not carry a favorable risk/reward.
Thanks everybody and have a great week!
The preceding article is from one of our external contributors. It does not represent the opinion of Benzinga and has not been edited.
Posted-In: Markets Trading Ideas
View Comments and Join the Discussion!