Election Week Social Sentiment and Market Behavior for Smith & Wesson Holdings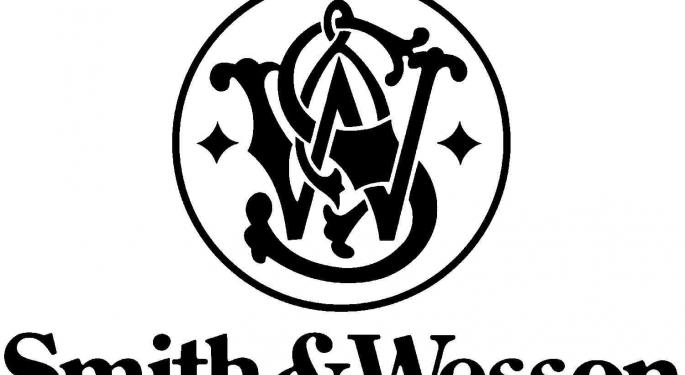 This week, Social Market Analytics (SMA) looks at Smith & Wesson Holding Corporation (NASDAQ: SWHC), a major manufacturer of firearms, handguns, sporting rifles, hunting rifles, black powder firearms, handcuffs, and firearm-related products and accessories The week of November 5 saw shares of SWHC surge higher, in contrast to broader market trends, as the presidential election results rekindled old fears of new regulations on gun ownership. Shares of SWHC rose 9.6% on November 7, the day after the election, and mirrored similar surges in 2008 and 2009 when such fears of stricter gun ownership laws, which later proven to be unfounded, generated brisk sales for the company. During the week, SWHC appeared on SMA's morning Flash Report, which identifies stocks, in the pre-market, with extreme sentiment levels that are likely to trade with high activity during the upcoming session. On the morning of November 7, our analytics engine identified SWHC as a stock with extreme positivesentiment from the universe of stocks tracked by SMA. SMA's sentiment metrics provided early indication of positive price trends for SWHC in midweek; only to subside as the week progressed as SWHC eventually succumbed to broader market trends.
On November 5, SMA's S-Score for SWHC moved up sharply to 3.4 (High Positive). On Election Day, SWHC opened with a minor gap up and closed higher at $9.46, for a gain of 2.16%. The behavior of SMA's S-Factors measures market trading sentiment and can provide actionable signals for upcoming price movement. In the pre-market of November 7, SWHC's S-Score posted a level of 4.22 (Extreme Positive), a notable increase from levels seen during the previous two weeks, coincident with a spike up in its S-Volume metric indicating unusually high social media activity for the stock. SWHC opened the November 7 session at $10.25 and rallied to close at $10.37, a gain of 9.6% on high volume. Positive market sentiment persisted in the pre-market of November 8 with SWHC's S-Score at 2.94 (High Positive) as did high levels of social media activity. The stock continued to rally to closing at $10.67, up 2.89% for the day. On the last trading day for the week, SWHC's S-Score reverted to Neutral levels, indicating a decline in market sentiment. SWHC opened the November 9 session at $10.59, only to sell off to end trading at $10.26, a loss of 3.8% for the day, but at a net gain of 13.6% for the week.
Social Media data are noisy and complex. A single metric is insufficient to understand sentiment behavior over time. Our S-Factors are a family of metrics, including volatility, trend and volume measures, designed to provide a complete view of the social media signature for each security tracked in SMA's database. SMA's processing engine continuously updates our S-Factors, capturing overnight and pre-market sentiment activities. Clients receive sentiment reports, prior to the U.S. market open, and intra-day sentiment estimatesfor tracked stocks, on-demand. Clients have access to our Sentiment Alerts feature, which provides real-time notification of changes in sentiment metrics for the stocks on a client's customized watch list. We invite the reader to visit our website; investigate our market sentiment metrics for SWHC, other stocks, industry sectors, and market indices; participate in our FAQ forum; and sign up for our Flash Report and Newsletter.
The preceding article is from one of our external contributors. It does not represent the opinion of Benzinga and has not been edited.
Posted-In: Markets Trading Ideas
View Comments and Join the Discussion!