What Breadth is Telling Us Here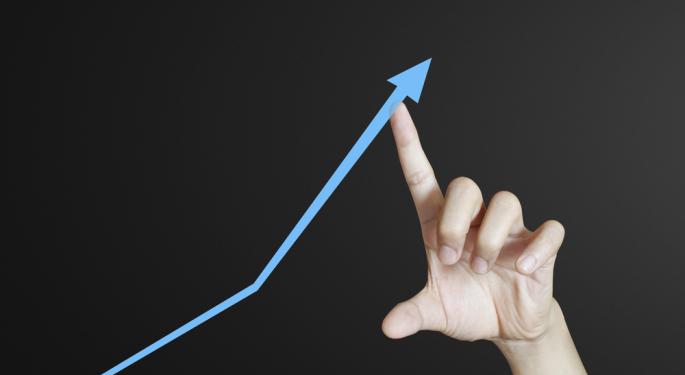 By Marlin Cobb
There are three fundamentals to technical analysis: price, time and volume (PTV). From those three components, we create most of our other tools, be they moving averages, stochastics or volume charts. Although those charts will look very different, they are still simply manipulations of PTV.
Today we will talk about breadth, and how we can multiply those three (PTV) x breadth, where breadth could be all the symbols in the NYSE or small caps, or 30 special stocks. We are all familiar with breadth in the form of an index; today we are going to look at a couple of my favorite breadth charts and see what they are telling us about the current market action.
First up is the Zweig breadth indicator. This is a simple chart that uses the advance/decline line of the NYSE averaged over 10 days. A value over 61.5 (that is 10 days averaged of over more than 2:1 advancers) produces an overbought area and a value below 40 is considered oversold. This chart helps to see the strength of buying across the entire spectrum of the NYSE.
Our current chart has us back to the 43 area. This is the fourth trip here and we would be looking for a break with the understanding that we want to get into an oversold condition to help exhaust the market of sellers and begin another up-leg. This indicator has not been oversold since May; that is a very long time, especially since we have been overbought 3 times during that span.
Our next indicator up is our favorite trend indicator that helps us stay grounded in the crosswinds of the markets. This indicator is the cumulative value of the new high/new low ratio of all the NYSE stocks. In other words, are we making more new highs or lows over time?
Last year's November-April top was called almost perfectly by the crossing of this indicator and the 15-day moving average of the indicator. A bullish reversal in mid-June was also confirmed by a bullish crossing. In mid-October we made a bearish reversal crossing. That keeps us on the bearish side looking for reversals in our quicker, more agile indicators.
For today:
Our trenders are telling us that a momentum top is in place and the current trend is to the downside. We remain paranoid on our calls as always, looking for reasons why we are wrong. Currently, we can't find any and are expecting to see our Zweig finally go oversold after a long absence. At that point we will begin looking for reversal patterns for a possible late-starting Santa rally. We do think there is a high probability of a decent bounce today, and then trend resumption (down) to test the 1300 area.
To see the full list of breadth charts we publish every day, visit http://redliontrader.com
Today's data
It's 5:30 a.m. and the ESZ is down 1 handle at 1373.75, Dec. crude is down 13 cents at 84.87 and the EC is trading 1.2728, down 24 ticks.
Asia closed: Shanghai Comp -.12%, Hang Seng -0.85%, Nikkei -0.9%
Currently in Europe: DAX -0.9%, FTSE -0.46%
Today's headline: "Stock futures fall on euro zone, 'fiscal cliff' angst"
Economic calendar: Import/export prices, consumer sentiment, wholesale trade; earnings from JCPenney
MrTopStep Closing Print Video:http://www.mrtopstep.com/closing-print-w-danny-riley/
YOU WANT A LOOK AT WHAT OUR TRADERS SEE EVERY DAY? SIGN UP FOR THE IM TRIAL AT http://mrtopstep.com/free/ IT'S THE REAL DEAL!
_____________________________________________________
Follow us on Twitter @MrTopStep http://twitter.com/mrtopstep
Sign up for our free mailing list at http://mrtopstep.com/ for full report.
DISCLAIMER: The information and data in the following report(s) were obtained from sources considered reliable. Opinions, market data, and recommendations are subject to change at any time. Their accuracy or completeness is not guaranteed and the giving of the same is not to be deemed as an offer or solicitation on our part with respect to the sale or purchase of any commodities or securities. MrTopStep, its officers, directors and its contributors may. in the normal course of business, have position(s) which may or may not agree with the opinions expressed in this report.
The following article is from one of our external contributors. It does not represent the opinion of Benzinga and has not been edited.
Posted-In: Markets Trading Ideas
View Comments and Join the Discussion!