How to Spot a Market Bottom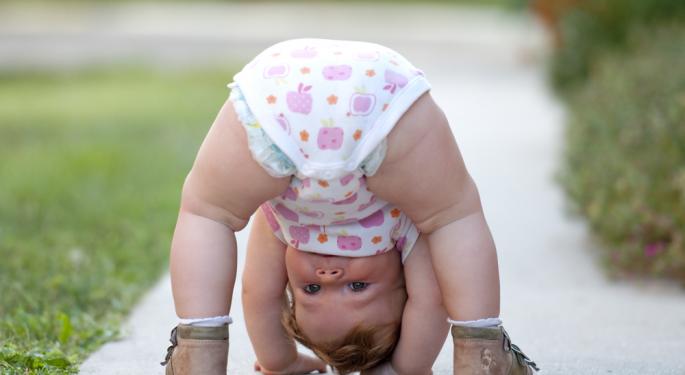 Nothing much has changed in the market. The Nasdaq Composite (NASDAQ: IXIC) first started to show signs of distribution, or institutional selling, in late September. The tech index remains under distribution, and the market's technical picture continues to worsen. Oversold? Perhaps, but people were saying Apple (NASDAQ: AAPL) was oversold at $650 and look where it is now.
Some sort of bounce would not be surprising to see in the near term, but it will take more than one day of strength for an uptrend to gain traction.
The goal now is look for the first day of a rally attempt for the major averages. The percentage gain does not matter nor does the volume -- just an up day for the market. Don't pay much attention to what happens on the second or third day of the rally attempt because it's when shorts tend to cover positions. As long as there are no new lows, the rally remains intact.
On the fourth day of the rally attempt and beyond, look for a significant percentage gain (at least 1.5 percent) in the indices in higher volume. This would be a signal to start wading back into the market. Plenty of market precedent shows that buy signals are often seen on the fourth, fifth, sixth or seventh day of a new rally. In some cases, a buy signal can come 10 days or later after an initial rally attempt.
A market buy signal should not be begrudging and on the fence. If it is, it probably won't amount to much. For example, a 1.5 percent gain for the Nasdaq Composite on volume of 1.8 billion shares would not be nearly as compelling as a 2.5 percent gain on volume of 2.5 billion shares. The more conviction there is behind the buying, the better. Institutional buying is the fuel for new market up trends.
On March 12, 2009, the NYSE Composite flashed a buy signal five days into its rally attempt, surging four percent in higher volume. From that point, the NYSE Composite went on to gain 53 percent for the year.
On September 1, 2010, the Nasdaq Composite soared three percent in higher volume on the fourth day of its rally attempt. It sparked a rally of 22 percent over the next four months.
This process of identifying market bottoms was developed by William O'Neil over at Investor's Business Daily. Of course, the system does not have a 100 percent success rate, but it works more often than it does not. Sometimes, a buy signal only amounts to a short-term tradable rally. But other times, it can amount to a lot more than that. Either way, it usually presents profit opportunities.
At the very least, it's important to know when a new market uptrend is confirmed, because it's around the time when new leadership starts to make its presence felt. And owning new leaders breaking out to new highs in the early stages of a market uptrend can be highly profitable.
Posted-In: Markets Best of Benzinga
View Comments and Join the Discussion!