Could Former CNBC'er Be the Cure For Olbermann's Ratings Plunge?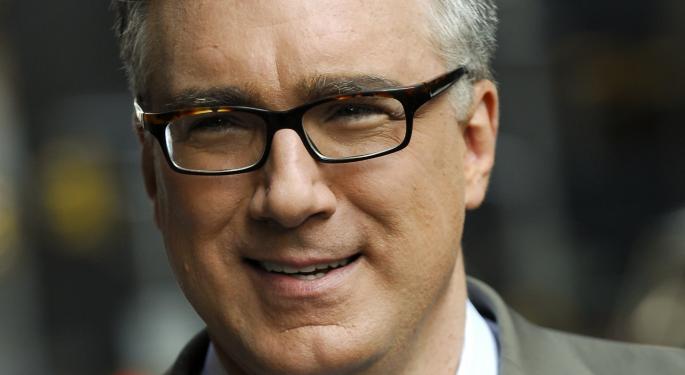 That's the buzz of the industry as Keith Olbermann's downward trend in the ratings continues based on the 2Q cable news ratings which are out today.
According to Business Insider, Olbermann is down double digits for FIVE consecutive quarters in the advertiser friendly lucrative 25-54 demo that are vital to a network's bottom line since that what advertisers use in purchasing commercial time.
A consecutive five month drop is enough of an indicator that a trend has formed around Olbermann and it's not the kind of trend networks look upon favorably. In fact, it's the kind of steep slide that starts to raise executive eyebrows, especially the eyebrows of those who reside in Philly as Comcast (Nasdaq: CMCSA) prepares for the impending takeover of GE's (NYSE: GE) MSNBC.
MSNBC has grappled with Olbermann's ratings woes for quite some time--- Countdown began the downward trend in 2009, and 2010 has been just as abysmal with the show losing 42% of his 25-54 demo last quarter and another 25% this quarter.
Sources tell me that MSNBC has tolerated the poor performance since it's well known that no one there has any control over Olbermann and by and large he calls the shots at the network and MSNBC has not had a bench of emerging talent to replace him with. Until now……former CNBC'er Dylan Ratigan was the recipient of a fawning profile in the NY Times yesterday and there's talk of whether he could be a suitable replacement for Olbermann if this trend continues. Ratigan has now moved from news to opinion and is gaining some traction in doing so, making him a good fit for primetime, the most valuable real estate in cable news.
There's no way Comcast will be as forgiving as NBC/GE has of Olbermann's poor performance. It might just agree on giving the slot to a younger, fresher voice whose show would perform better among the younger crowd, the majority of which are worn out by Keith Olbermann's tired shtick and searching in droves for an alternative.
Posted-In: CNBC Dylan Ratigan Keith Olbermann MSNBC NY TimesMovers & Shakers Media General
View Comments and Join the Discussion!