Cannabis Consultant Larisa Bolivar Brings Personal Experience To Advocate Marijuana's Social, Economic Benefits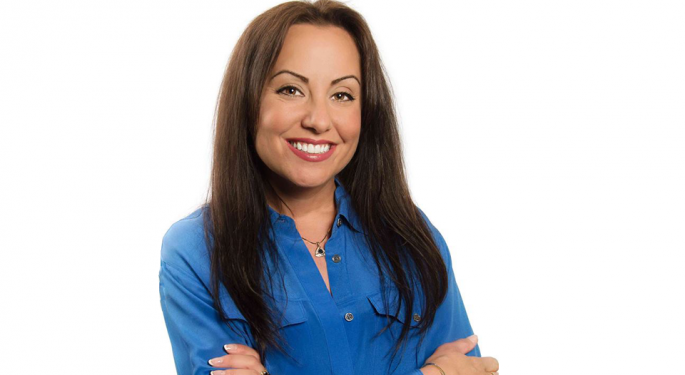 Cannabis investors can't afford to miss the Benzinga Cannabis Capital Conference, a premier gathering of investors and entrepreneurs painting an honest picture of the opportunities and challenges in cannabis investing. Space is limited—get your tickets before they sell out.
Ahead of the conference, we're interviewing the speakers who will deliver key insights on the cannabis space at the BZ Cannabis Capital Conference. This installment features Larisa Bolivar, co-founder and managing partner of TCMS Global.
Quickly give us your background—why are you passionate about cannabis?
Let me begin by saying that Cannabis saved my life. I had undiagnosed PTSD until my mid-twenties and began consuming when I was 15. I immediately started performing better in school and had less social anxiety, which helped me thrive. I knew then that there was more to Cannabis than we were being told and consumed it regularly for medical and spiritual reasons, which began the healing process for my PTSD. I "officially" became involved in Cannabis 17 years ago when I moved to Colorado in 2001 from Northern Virginia as a "medical marijuana refugee," leaving a growing lucrative career in technical recruiting for high level government contracts and dot-com companies to help my ex-husband cultivate cannabis for himself and medical early medical Cannabis patients. From there, I met my mentors who were involved in the passing of Amendment 20 and we helped shepherd patients and caregivers through a not-as-of-yet regulated medical marijuana industry, helping to register thousands of patients and matchmaking them with caregivers who we taught to grow for medical purposes.
It was my work in helping some of Colorado's most vulnerable patients find safe access to Cannabis while witnessing it literally save lives before my very eyes, and also helping people find people in palliative care while facing terminal illnesses, that ignited my passion for Cannabis. Since then, I have been steadily building my career in cannabis, launching a nonprofit called the Cannabis Consumers Coalition in 2014, and growing my Cannabis business consulting business from being an independent consultant, to taking on a partner and relaunching as TCMS Global, an international cannabis specific business development and management consulting firm.
My experience is geared for this type of work, and by chance, I have worked in other emerging industries in startups, including two that had successful launches, which is rare, and it gives me unique insight on what it takes to help startups succeed. It seems that I destined to work in emerging industries, particularly in a startup environments, which is something I am passionate about and I am lucky to have a career that incorporates my passions in helping to create a new billion dollar industry.
What is the most exciting opportunity in the cannabis space right now?
Data and technology are the most exciting opportunities in cannabis right now. Data is hot in most industries as it helps businesses target specific audiences, track key business-related information, build consumer profiles for more targeted audiences, and help with operational efficiencies. Technology makes it possible to create applications to track data as well as create operational efficiencies and reduce costs.
There are still massive challenges for the nascent cannabis space to overcome—what is the most pressing of those challenges?
Banking, federal descheduling, and creating more diversity and inclusion are, in my opinion, the most pressing challenges that we have in the United States. Even companies in the ancillary market space like myself are feeling the impact of the lack of banking and federal ambiguity.
Finally, and in my opinion one of the most important issues, is creating a more diverse and inclusive cannabis industry. To me, this is a legacy issue that is grounded in how we want our nascent industry, our collective baby if you will, to look 100 years for now. We do not want to have another slave and Jim Crow legacy attached to cannabis, especially while in the midst of addressing what those policies have done to impacted communities and their ability to thrive in today's economies. The War on Drugs was primarily a racist war that targeted communities of color across the globe. This is not isolated to the United States.
Globally, I think the biggest challenge is also policy related. The UN Convention on Drugs needs to be amended to remove Cannabis to allow for a seamless adoption and integration of a global Cannabis economy, which includes hemp, medical and a recreational Cannabis.
How should the industry advocate for a cannabis regulatory framework that will allow for safe, sustainable growth?
I think that the cannabis industry should advocate for regulating cannabis in a manner similar to alcohol, but also that policy considers the various applications for Cannabis. I think that putting it into too tight of a regulatory box will stifle full economic potential because of the plant's many uses and the different types of consumer demand for its various types of uses, which range from medical, to recreational (or social use, my preferred term), to spiritual. Restricting the market would only continue to enrich the black market because the consumer demand already exists.
I also think that the industry should also create special regulations for people most impacted by the targeted and racist drug war and create programs that include small business loans and training to help people of color become owners and build generational wealth. I also think that regulations should created to release people from prison on non-violent cannabis charges and to help facilitate the expungement and sealing of records.
What big surprises do you predict occurring in cannabis in the next three years? Will a big legacy tobacco or alcohol incumbent invest in the space, or something else remarkable?
I believe that the United States will make a move federally to either re-schedule or deschedule cannabis. Absolutely big tobacco or alcohol will invest in the space once federal restrictions are lifted, as well as other industries. I know a lot of people who have moved over from oil and gas in the cannabis space. Most business people see the huge opportunity in the emerging cannabis industry and I think once federal laws change, the industry will explode with new players.
Any other thoughts?
Currently, much our global resources are taken from the earth to create products that fuel our economy, but are arguably unsustainable and mostly non-renewable. What makes cannabis really interesting is its versatility, especially hemp, and provides a renewable source of material for a multitude of products that will provide solutions to issues such as deforestation and finding creating new sources of energy that is clean and renewable.
Posted-In: Benzinga Cannabis Capital Conference Larisa Bolivar Merida Capital Partners New Frontier DataCannabis Interview Best of Benzinga
View Comments and Join the Discussion!