United Air Facing A Twitter Tailspin As Responses To Overbooking Fiasco Flood In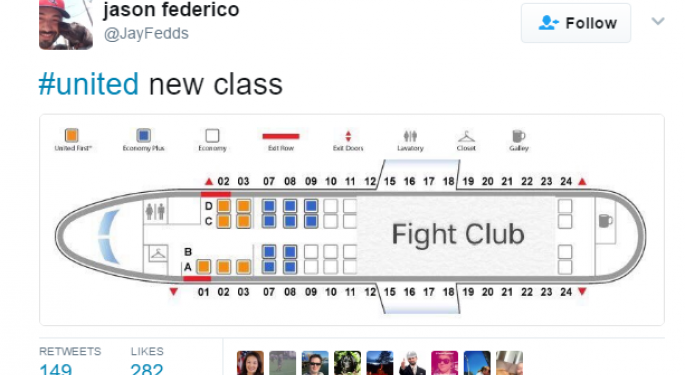 United Continental Holdings Inc (NYSE: UAL) has found itself in the middle of a PR nightmare Monday after a video of police forcibly removing a paying customer from an overbooked flight on Sunday night has gone viral.
Following the incident, CEO Oscar Munoz issued an official apology for the way the man was treated.
"This is an upsetting event to all of us here at United. I apologize for having to re-accommodate these customers," Munoz said.
Many Twitter Inc (NYSE: TWTR) users were both entertained and outraged by the incident and the apology. Here's nine of Monday's best #United tweets.
Some twitter users were concerned about the implications of United's overbooking policies:
@Reflog_18 When you are flying @united, and someone says the plane is looking pretty full today. pic.twitter.com/SNXKngQ3D8

— St. Pete Buckeye (@Joep88894971P) April 10, 2017

This tweeter offered to help United out by providing some complementary editing serviced for Munoz:
@united I fixed this for you! @united #unitedairlines pic.twitter.com/BgToLV3ih7

— Valabama (@valabama) April 10, 2017

This man couldn't help pointing out the irony of United's trademark catchphrase:
United. Fly the Friendly Skies. Friendly...like this boot on your throat.

— Jeffrey Wright (@jfreewright) April 10, 2017

One tweeter was looking for some clarifications about United's overbooking policies:
Hey @united my aunt flies LA to Chicago tomorrow & I was wondering if it's at all possible, can you not beat the absolute shit out of her?

— David Hughes (@david8hughes) April 10, 2017

Despite the overwhelming backlash against United, one tweeter expressed a bit of empathy toward at least one United employee:
Imagine being the #United employee that has to take that seat.

"How's it going? Just gonna put the ol' bag up here...Yep, 18A, that's me."

— Turf Ferguson (@Turferg) April 10, 2017

While many tweeters were critical of United, at least a few were brainstorming about possible solutions to the problem:
#united new class pic.twitter.com/lad0X3bnMo

— jason federico (@JayFedds) April 10, 2017
The year is 2019 and United has upgraded to just throwing passengers out of the plane mid-flight to save on fuel

— Justin Ling (@Justin_Ling) April 10, 2017
If only there was some way to use a computer to know how many seats an airplane has. @United #flight3411 #ThingsYouWontHearOnUnitedAirlines

— Chris Magill (@cmagill) April 10, 2017

Others believe the overbooking problem may simply take care of itself in time:
@united you guys will never have a problem with overbooking now that nobody will opt to fly with you.

— Billy Joe Kiessling (@buhbuhbilly) April 10, 2017
Related Links:
How Is Earnings Season Setting Up For The Airliners?
Unfriendly Skies: Passenger Ejection From Overbooked Flight Raises Questions About Bumping
__________
Image Credit: Screengrab from @JayFedds, Jason Federico
Posted-In: Oscar MunozTravel Media General Best of Benzinga
View Comments and Join the Discussion!