The Single Biggest Threat To The U.S. Casino Industry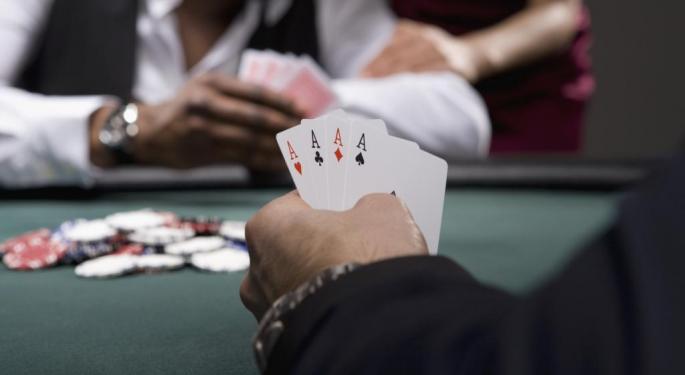 Benzinga recently had the chance to sit down with Rick Carter, the co-founder of the Island View Casino Resort in Gulfport, Mississippi, and Island View CFO John Bakley, who also formerly served as the senior director of finance at Isle of Capri Casinos (NASDAQ: ISLE). U.S. regional casino operators have had an outstanding 2015 up to this point, but Benzinga asked the two industry execs for their take on several major potential threats to the industry.
Spending
The spending habits of Las Vegas Sands Corp. (NYSE: LVS), MGM Resorts International (NYSE: MGM) and Caesars Entertainment Corp (NASDAQ: CZR) prior to the Financial Crisis pushed all three companies to the brink of bankruptcy. Benzinga asked Bakley if he sees any cause for concern in the recent industry capex trends.
"I haven't seen anything close to what was happening in 2006 and 2007," he said. Bakley added that expansion, particularly in the Las Vegas Strip, has tended to come in bursts in recent decades.
Although certain companies have fallen by the wayside, expansion has generally paid off for most companies in the long run.
Related Link: Macau Turnaround Could Have Casino Stocks On Track
Cheating
The movie "21" starring Kevin Spacey drew attention to one unfortunate aspect of the gaming industry: cheating. Although technology such as facial recognition software has made the job of detecting cheaters much easier in recent years, Bakley told Benzinga that the best defense against cheaters is a good security staff.
"Technology certainly helps, but any time there are any large wins or large play in general, we rely on our team to monitor that very closely," he explained.
Online Gaming
When Benzinga asked about the threat that illegal online gambling sites pose to casino operators, Carter said that the threat extends beyond just the casinos. "When a compulsive gambler can sit at home in their bed and gamble in their pajamas, that's bad news," Carter explained. "More people get hurt from online gambling than any other form of gaming in the world."
Carter also added that the lack of online gambling regulation means that sites are not paying any taxes, and they are free to make the odds so unfavorable that players essentially have no chance to win.
Related Link: NYX Gaming Group Limited Announces Online Gaming Platform
Hold Percentages
Surprisingly, Carter told Benzinga that the single biggest threat that he sees to the gaming industry today has to do with the amount of money that casinos return to players. Carter said that one of the topics of discussion at the recent Southern Gaming Conference was the possibility that the larger U.S. operators could dramatically increase their "hold percentage," the percentage of money wagered that is kept by the house.
"If somebody comes in that's used to playing a couple of hours and ends up broke in 30 minutes, the industry is going to end up with a black eye," Carter told Benzinga. He explained that the most important objective for casino operators is to make sure that customers have a fun, positive experience so that they will keep coming back in the future.
Image Credit: Public Domain
Posted-In: Island View Casino Resort John Bakley Kevin SpaceyTopics Travel Top Stories Exclusives Interview Best of Benzinga
View Comments and Join the Discussion!