Printing With Metal May Be The Key To Growth For 3D Printing Stocks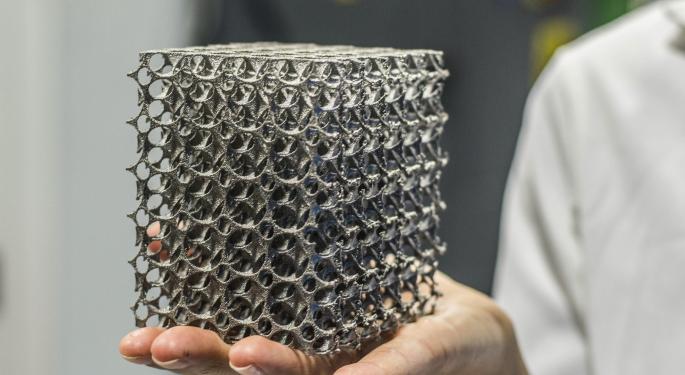 3D printing companies have been stymied by slow consumer adoption, but the industrial market for printing with metal represents a significant growth opportunity.
Although it had disappointing overall results last quarter, 3D Systems Corporation (NYSE: DDD) reported a strong increase in sales of its metal 3D printers.
During the company's earnings call, CFO Damon Gregoire said that 3D Systems maxed out on its manufacturing at Phenix Systems, the company's metal 3D printing unit. Gregoire added that 3D Systems is bringing a system manufacturing facility online in the U.S. during the third quarter.
Related Link: Will UPS & Stratasys, Ltd. Put The Squeeze On Home 3D Printing
Similarly, Stratasys, Ltd. (NASDAQ: SSYS), the other major player in the 3D printing space, acquired two metal 3D printing companies -- Solid Concepts Inc and Harvest Technologies -- this year.
The Metal Printing Opportunity
These companies have two reasons to be enthusiastic for metal 3D printing.
First is the lack of consumer adoption of 3D printing. Despite shrill hype and breathless headlines about use cases for 3D printers at home, the technology is far from being a consumer object.
3D printers are unwieldy, large, and require significant investment in time and resources. As such, they lack the convenience and utility of consumer objects. More important, a compelling case for 3D printers at home is yet to be determined.
No wonder, then, that sales for consumer 3D printers have not kept up with expectations. 3D printing companies have been forced to look elsewhere for growth prospects.
The second reason for metal printing enthusiasm is the technology for metal 3D printers and their use cases. Typical (non-metal) 3D printers use PLA or ABS plastic to 3D print objects. While they are effective in rapidly producing prototypes, both forms of plastic have limited utility in industrial processing or as consumer objects.
Metal 3D printing uses a technique known as selective laser sintering or SLS to melt metal alloys that are then deposited or layered on a printer bed. While the consumer applications for metal 3D printing are, as yet, limited, metal printing has wide ranging uses within industries.
The technology can be used to make either a finished industrial product or a prototype. In fact, the aviation sector, which was an early proponent and consumer of 3D printing, has already begun using metal 3D printers to streamline operations and manufacture parts.
Rapid industrial adoption is equal to more customers and growth avenues.
According to Wohler's report, the bible for statistics regarding the 3D printing industry, 348 3D metal printers were sold in 2013 to buyers in the medical, dental and aerospace industries. This is up from 198 metal printers sold in 2012.
Given these reasons, metal 3D printing may become the holy grail of growth for 3D printing stocks.
Posted-In: 3D Printing 3D Systems consumer 3d printing Damon Gregoire industrial 3d printingTopics Trading Ideas General Best of Benzinga
View Comments and Join the Discussion!