The Champs Are Here: Tom Brady, John Cena And Defying The Critics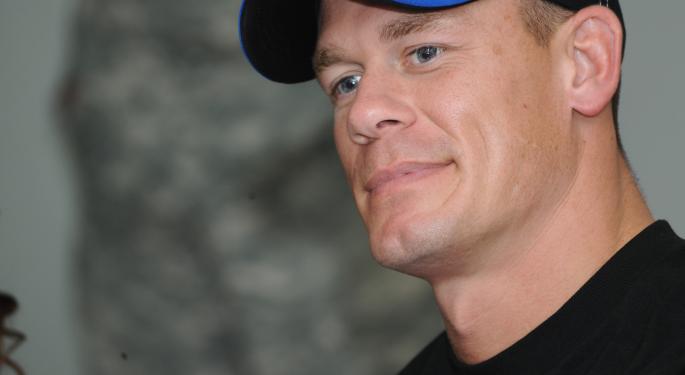 Tom Brady, 17 years into his historic career, won perhaps his sweetest Super Bowl yet on Sunday.
Brady led the New England Patriots back from a 28–3 deficit — the largest comeback in NFL postseason history — to defeat the Atlanta Falcons 34–28 in overtime.
Brady earned the game's MVP award, his fourth Super Bowl MVP award in five wins (seven appearances). As Patriots owner Robert Kraft noted onstage when accepting the trophy, this was the sweetest yet for him and his franchise after what happened to them over the past couple of years.
Brady, with tears running down his face, basked in the spotlight after taking his team on a historic comeback. He cemented himself as perhaps the greatest to ever play the game.
Interestingly, Brady's career runs parallel with that of a slightly different athlete: WWE Superstar John Cena, another of Boston's most accomplished sons. (Cena actually said as much earlier this year.)
Hustle, Loyalty, Respect
Cena grew up in West Newbury, Massachusetts. He debuted on World Wrestling Entertainment, Inc. (NYSE: WWE) television in the summer of 2002, just a few months after Brady won his first Super Bowl.
He climbed the ranks of the WWE ladder, eventually winning his first world heavyweight title in April of 2005. He would go on to have a run matched only by Bruno Sammartino in the 1960s and 1970s. Cena may have never been the megastar that Hulk Hogan, Steve Austin or The Rock were, but his longevity in the ring surpasses them.
Cena has been the face of WWE since 2005, but he's always had his critics. While Cena looks and talks like few before him, many purists have criticized his actual wrestling ability. Backstage politics certainly play a role, but if there's one thing Cena has always done, it's rise against the hate.
Cena has earned the nickname "Big Match John" in recent years, putting on arguably the best run of in-ring matches in his entire career.
M-V-P!
During that time, Brady and Patriots head coach Bill Belichick have dealt with coaching departures, Spygate and Deflategate. After pulling off one of the greatest underdog stories in NFL history back in January of 2002, the franchise has become the "evil empire" of the NFL (at least in many fans eyes).
Nevertheless, Brady keeps coming back for more. After winning three titles in five years (2001, 2003, 2004), some thought his run was over; The Patriots made it back to the Super Bowl in 2007 and 2011.
They lost those games in the final minute of play, with some saying their run was over… The Patriots have since won the Super Bowl in 2015 and now 2017, a 15-year run that's nearly unprecedented in modern sports.
Cena, meanwhile, just won his 16th world heavyweight title last month at WWE's annual Royal Rumble event. The win, labeled by many as Cena's greatest match, tied Cena with Ric Flair's legendary 16 title reign mark.
Spending two decades in the spotlight will bring love and scorn from all walks of life. But as these two all-timers proved, greatness will always rise to the top.
image: James, Flickr
View Comments and Join the Discussion!
Posted-In: John Cena New England Patriots Royal Rumble Super BowlSports Events Opinion General Best of Benzinga