KFC Follows A Select Few Twitter Accounts, And For Good Reason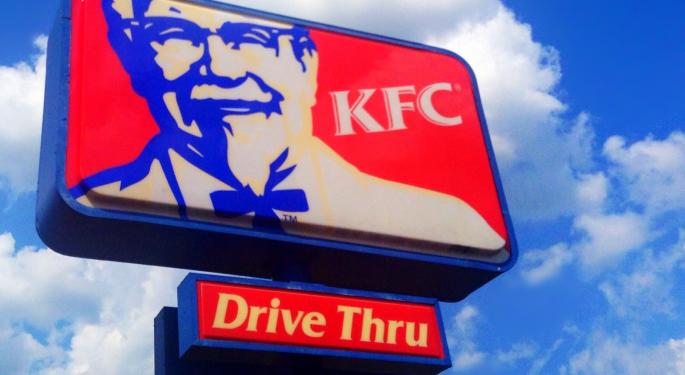 No detail is too small when it comes to Yum! Brands, Inc. (NYSE: YUM)'s quirky, comedic KFC marketing campaign featuring multiple Colonel Sanders (or at least multiple actors) and off-the-wall commercials.
This week, one Twitter Inc (NYSE: TWTR) user picked up on a strange pattern in the small group of people that KFC follows on its official Twitter account. See if you can spot the pattern based on the following list of Twitter accounts KFC follows (answer below).
1. Herb Scribner (@HerbScribner)—Staff writer and InDepth web producer for Deseret News.
2. Geri Horner (@GeriHalliwell)—Singer, songwriters, clothing designer, author and actress.
3. Herb Wesson, Jr (@HerbWesson)—L.A. City Council President.
4. Melanie Brown (@OfficialMelB)—Singer, songwriter, presenter, television personality and dancer.
5. Herb Waters (@herbwaters6)—Green Bay Packers cornerback.
6. Emma Bunton (@EmmaBunton)—Singer, songwriter, actress and radio and television presenter.
7. Herb Dean (@HerbDeanMMA)—Certified trainer, referee and martial artist.
8. Melanie C (@MelanieCmusic)—Singer, songwriter, entrepreneur and actress.
9. Herb Sendek (@HerbSendek)—Santa Clara men's basketball head coach.
10. Victoria Beckham (@victoriabeckham)—Businesswoman, fashion designer, model and singer.
11. Herb Alpert (@HerbAlpert)—Jazz musician and recording industry executive.
If you haven't picked up on the pattern, you're probably thinking too hard. Let Twitter user @edgette22 help you out:
.@KFC follows 11 people.

Those 11 people? 5 Spice Girls and 6 guys named Herb.

11 Herbs & Spices. I need time to process this.

— Edge (@edgette22) October 19, 2017
Clearly, no detail is too small for the Colonel(s). Whatever it is that KFC is doing is certainly working for Yum investors. In the most recent quarter, Yum reported 3 percent same-store sales growth for its KFC brand, and CEO Greg Creed called KFC a "global powerhouse."
Yum stock is up 19.9 percent year-to-date.
Related Link: Attention Restaurant Stock Investors: Delivery Has Become The Next Big Thing
Image credit: Mike Mozart, Flickr
Posted-In: KFC twitterRestaurants Media General Best of Benzinga
View Comments and Join the Discussion!