The Case Against: Chipotle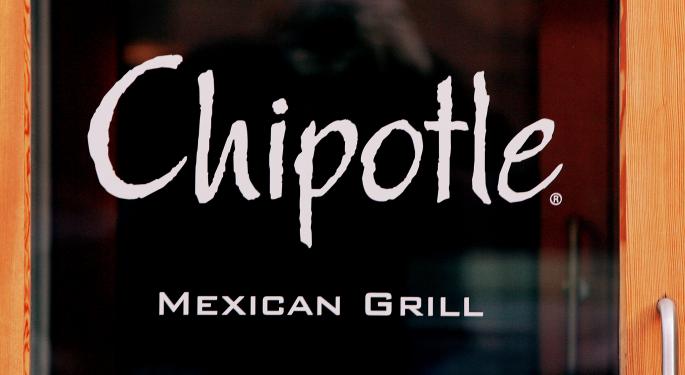 While Chipotle (NYSE: CMG) has had mixed results as a stock, the fast, casual restaurant has had great success getting customers through its doors.
The chain, which has grown explosively over the past few years with new locations popping with Starbucks-like speed, has built a devoted following.
Chipotle has also been one of the companies leading the fast casual craze (along with Panera Bread) which has hurt both traditional fast food and more expensive sit-down restaurants. By using quality ingredients and building up a reputation as a caring company by explaining where it sources its food from, the chain has brought in lines of customers without making large advertising spends.
Everyone who watches TV can sing a half dozen McDonald's catchphrases and we all know about Burger King's 'Satisfries' as well as the not-so-good-looking redhead who is the Wendy's guy's actual daughter and the much better looking redhead who isn't. Most of us can also recall ads for Sonic, Golden Corral and dozens of other chains, but, rarely, if ever is Chipotle in that mix.
These are, of course, all good things, but it's the Chipotle business model that at some point caps the company's growth. The chain's dirty little secret -- which is not so secret to its customers -- is that its assembly line delivery system is slow.
Eating at Chipotle requires that customers wait in a cafeteria-style line. Once a customer reaches the front, they place the order to a person that begins building the meal before handing the customer down the line to someone who puts on the finishing touches (like cheese or hot sauce). After that, the customer can pay (at a single register in most stores), which presents yet another place the process can become bottle-necked.
Under the best of circumstances, this process can be slow. At lunch time, it can be exceedingly slow and, if a person in line is placing an order for the office - well, you might want to bring a snack for the wait.
This system, which is the heart of how Chipotle works, at some point maxes out. You simply can't hand make a burrito any faster and, if the line gets too long, well, Taco Bell may not be as good, but, you won't have to stand around to wait for your tacos.
Chipotle won't fail -- it's a good company with a good product -- but the level of service it provides is not infinitely scalable. Yes, the company can build more locations, but, it's a very fine line between building stores and maintaining per unit sales. And, unlike many fast food restaurants, expanding hours (perhaps into breakfast) is not an easy or logical fit.
In its current guise, Chipotle has been a wildly volatile stock that at the writing of this piece trades over $530 -- more than double its 52-week low. Part of that volatility comes from the disconnect between the service issues and the fact that customers really like the product.
This is not an insurmountable problem (Starbucks has made a lot of headway in this area) but it massively hinders short-term sales growth. Chipotle is a great lunch choice, but, it's not a great stock choice as too much of its current valuation is based on consumer sentiment, which ignores the growth challenge facing the chain.
Daniel B. Kline is a Benzinga staff writer and editorial consultant who can be reached at dan(at)notastep(dot)com.
'The Case Against' is a recurring analysis of why a company, person or other business venture is not a good long-term investment. All opinions are the author's and are not a recommendation to buy or sell any stocks, bonds or other financial instruments.
Posted-In: Burger King Chipotle golden corral McDonald's StarbucksRestaurants Trading Ideas General Best of Benzinga
View Comments and Join the Discussion!