What Does The Future Of The World Look Like? Americans Weigh In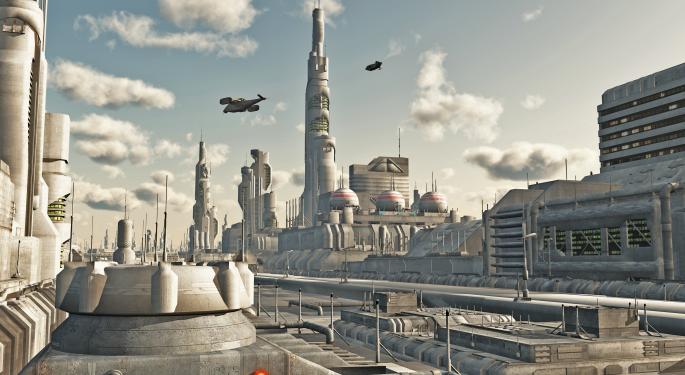 Everybody wonders what the future will hold. Think of movies like Back to the Future, 2001: A Space Odyssey or any of the post apocalyptic TV series and movies that have become the new in-thing.
Investors spend their careers betting on the future but when Pew Research conducted a study asking Americans about the future of the world, it had little to do with Wall Street. The questions, and answers, may surprise you.
As expected, as a whole, respondents saw a world where many of today's problems are a thing of the past. Fifty-nine percent say they are optimistic that future technological and scientific changes will result in a better life, but 30 percent say that the world will be worse off than right now.
Related: The Price of Produce Sky Rocketing – Here's How to Save
A full 81 percent believe that in the future, people who need organ transplants will have access to lab-grown organs—something that is already in the beginning stages. Fifty-one percent say that computers will create art as well or better than humans.
But there are some feats that are still outside of our future capabilities, say respondents. Fifty-six percent don't believe that humans will solve teleportation any time soon, while 64 percent don't believe we'll be living in space.
Is there any chance we'll be able to control the weather? A full 77 percent say no.
There's some inventions that we shouldn't pursue, according to respondents. Sixty-six percent say that prospective parents should not be able to alter the DNA of their children, while 65 percent say that robots should not become the primary caregivers for the sick and elderly.
Sixty-three percent say it's a bad idea for commercial and personal drones to fly through U.S. airspace and 53 percent of Americans say that wearing implants or other devices that constantly feed them information is a change for the worse.
Finally, about half of Americans aren't interested in driverless cars, 72 percent aren't interested in a brain implant that would improve memory or mental capacity, and 80 percent say, "no thanks" to a meal grown in a lab.
What does that mean for some of the world's most innovative companies? For Google, (NASDAQ: GOOGL) it could mean, at least for now, that Glass won't find much of a consumer market. For biotech companies, curing disease is a better investment than trying to mess with a fetus' DNA.
But no study can predict the future of change. People can only answer questions like these based on their present-day knowledge. Companies will continue to innovate knowing that consumers don't know what they want until they have it—at least most of the time.
Disclosure: At the time of this writing, Tim Parker had no position in the companies mentioned.
Posted-In: Google Pew ResearchPsychology Tech General Best of Benzinga
View Comments and Join the Discussion!