5 Reasons Cash Isn't Dead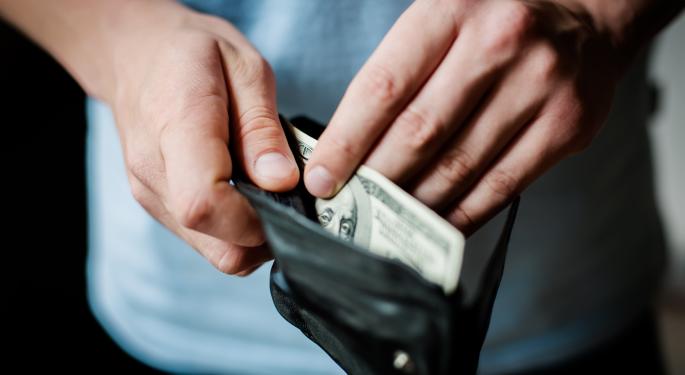 We're living in a digital world. That means that the old dinosaur we call cash is pretty much dead, right? Who needs it? It's dirty, not all that attractive, it's been in people's pockets and when you use it, stores give you coins—dirtier and heavier than the paper(ish) product that you gave them.
There are so many good reasons to no longer carry cash but before you impose the same fate on your cash that nature did on the dinosaurs, there are still plenty of reasons to have some on hand.
You Spend Too Much
The nicer way to say it -- you're on a budget -- works too, but there are plenty of studies that show that you will spend more money when you're using your credit card. We throw down our credit cards like it's nothing, but when it's cash, it feels more real.
Popular finance guru Dave Ramsey says, "there is no positive side to credit card use. You will spend more…" Don't get much more cut and dry than that, do you? If you generally spend too much, which most people do, try cash.
Related: 13 Ways to Save More Money
Farmers' Markets
Add to that, flea markets, some mobile vendors or the guy that cooks the amazing barbecue that sets up on the side of the road. Increasingly, they are taking credit cards but as soon as they take the credit card plunge, your price goes up. There's still something nostalgic about buying your produce from a local farmer and paying cash and not giving it to one of those corporate grocery giants.
Although you live in a digital world, not everybody does.
Parking Garages
Sure, the airport parking garage has all the newest technology that allows you to pay your insanely high parking fee without speaking to anybody, but how about those city garages that still require you to stuff cash into the little hole that represents your parking spot? If you've ever been stuck in a parking garage because you only had a card, you know the frustration. Always keep some cash in your glove box.
For Rapid Returns
If you're ok with waiting for your refund, a credit card is fine, but if you're looking to have that money in your hands right now, pay with cash. Stores will issue the refund using your original payment method. If you want cash back, pay with cash.
To Leave a Tip
Valets, if you're into that, don't take credit cards for tips and for servers who might live paycheck to paycheck, they would much rather receive cash they can take home tonight instead of a weekly amount from their employer.
Cash isn't dead yet. If you're the digital type, you've probably found that you rarely need it but when you do, it's a lesson in patience.
Posted-In: Cash Dave Ramsey restaurantsPsychology Personal Finance General Best of Benzinga
View Comments and Join the Discussion!