Janet Yellen Resigns From Federal Reserve Board Of Governors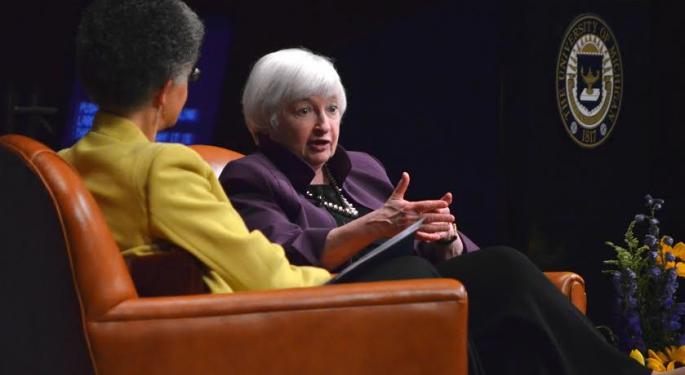 Federal Reserve Chair Janet Yellen has announced that she will resign from the Federal Reserve rather than continue to serve in a governor role once her replacement takes office Jan. 31, 2018. In a resignation letter to President Donald Trump, Yellen said she is proud of how far the U.S. economy has come during her four years at the helm of the Fed.
"As I prepare to leave the board, I am gratified that the financial system is much stronger than a decade ago, better able to withstand future bouts of instability and continue supporting the economic aspirations of American family and businesses," Yellen said.
Trump has nominated Jerome Powell to replace Yellen as fed chair. Powell has been a member of the Board of Governors since 2012. Prior to joining the Fed, he was a visiting scholar at the Bipartisan Policy Center in Washington and served as a partner at The Carlyle Group for seven years. Powell also served as undersecretary of the treasury under President George H.W. Bush and has worked as both a lawyer and investment banker.
Yellen's departure means the Board of Governors now has four open positions for Trump to fill.
Deutsche Bank has said the transition from Yellen to Powell should be an easy one for investors.
"Markets should take a Powell announcement largely in stride, keeping financial conditions easy and providing little disruption to an economy that is experiencing solid growth," Deutsche Bank wrote earlier this month.
Investors didn't react much to Yellen's resignation on Monday. The SPDR S&P 500 ETF Trust (NYSE: SPY) was higher by by 0.2 percent in midday trading.
Related Links:
What Donald Trump's Shortlist For The Fed Chair Might Mean For Rates
Everything You Need To Know About Jerome Powell, Trump's Pick For Federal Reserve Chairman
Photo by Dustin Blitchok.
Posted-In: Federal Reserve Janet Yeller Jerome PowellPolitics Federal Reserve General Best of Benzinga
View Comments and Join the Discussion!