Banking Is Big...A Little Too Big. Here's Why.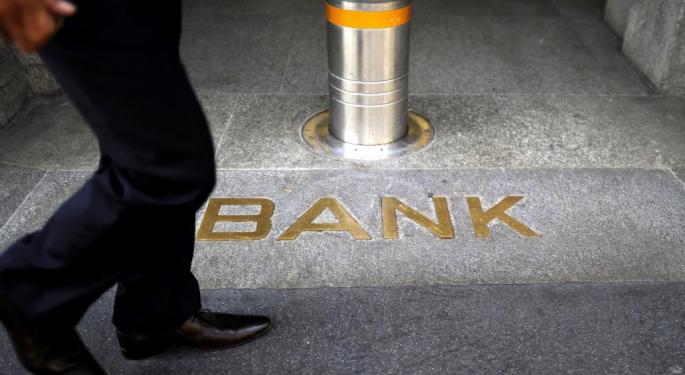 Banking is big in America. In 2014, U.S. banks issued trillions of dollars in credit -- equivalent to 245 percent of the nation's total economic output, according to the World Bank. In 2013, these banks' assets added up to almost 90 percent of GDP.
But with the American financial sector larger than any other in the world, many experts wonder if it has simply gotten too big. Chris Martenson, co-founder of PeakProsperity.com, is one of those people. He spoke with Benzinga about the dangerous expansion of the financial sector.
'The Financialization of Our Economy'
According to Martenson, a phenomenon that he described as the financialization of the U.S. economy began to escalate with the Long-Term Capital Management crisis in 1998. That year, the Federal Reserve Bank of New York organized a bailout of Long-Term Capital Management, a hedge fund management firm that did business with many of Wall Street's largest banks. For Martenson, the event "set the tone that big banks could get almost anything they wanted."
Today, he noted, "the assets of the top five banks in the country are enormous. They push around everything from legislation to regulation...and they're able to get away with all sorts of crimes at this point" without even receiving appropriate fines.
Related Link: How Every Presidential Candidate Wants To Change The Economy
Martenson believes that the recently settled drama within the eurozone exemplified the dangers of big banking.
"An entire nation of people is being punished," he said, "for what turned out to be a series of ill-advised loans by German and French banks to the government of Greece."
He argued that these large European banks are essentially transferring their losses to an innocent public.
Insufficient Regulation
Martenson believes that the U.S. government has kept the country's banks on too loose of a leash.
"The repeal of the Glass-Steagall Act," which prevented banks from buying securities with depositors' money, "was one of the worst things." The repeal exposed the Average Joe to the risk taking activities of commercial lenders.
He also highlighted the so-called 'Citibank provision' passed by Congress last year. The legislation added derivatives to the list of securities insured by the Federal Deposit Insurance Corporation. Derivative debts are now senior to depositor debts, "absolutely enshrining the idea" in Martenson's mind "that banks' side bets with each other are more important than the depositors."
"Imagine walking into a casino where you know the worst that can happen is that the guy sitting next to you pays your losses," he explained. "And the best that can happen is that you walk away with your profits."
According to Martenson, the issues plaguing big banking today are primarily matters of incentive -- if banks are offered protection for losses, they will engage in risky behavior. The way to fix the problem, he explained, is to subject bankers to more aggressive legal scrutiny. In his opinion, they should be made to suffer personal loss when an investment doesn't go their way.
A Corrupt Relationship
But Martenson is pessimistic about the possibility of meaningful changes in financial regulation in the near future. "Our political system is heavily co-opted by money. Some of the most aggressive donations come from [Wall Street]."
He noted "accountability has gone completely out the window" during the Bush and Obama administrations. Furthermore, he believes that that no current presidential candidate has presented the financial sector as a priority.
Even newly confirmed Attorney General Loretta Lynch's appointment was dogged by her suspected corrupt ties with big money. In 2012, Lynch closed a $1.9 billion settlement with HSBC Holdings plc (NYSE: HSBC) as Attorney General of New York instead of prosecuting; the firm had admitted to laundering billions of dollars for Mexican drug cartels and helping the clients evade U.S. sanctions.
So will the U.S. government make serious efforts to reign in the financial sector anytime soon? According to Martenson, big banks' soaring profits and enormous balance sheets can only mean trouble for the American public.
Posted-In: Chris Martenson Federal Deposit Insurance CorporationPolitics Top Stories Economics Exclusives Interview General Best of Benzinga
View Comments and Join the Discussion!