The Market Doesn't Fear Ebola: A Technical Look At Lakeland Industries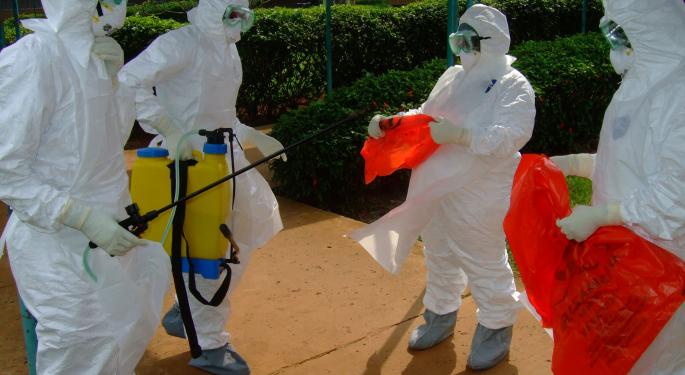 The fear of the Ebola virus has dominated the headlines of late and brought about heightened volatility. Not only has it brought long overdue volatility to the broad market, but it has also fostered a new sector of stocks: the Ebola sector.
These individual stocks fluctuate wildly with each headline that hits the tape. When news comes out of a death or new case, these stocks go into orbit. When the fear subsides and there is no breaking news, however, these issues tend to return to earth.
A great example of this kind of price action is in the shares of Lakeland Industries, Inc. (NASDAQ: LAKE). The maker of hazmat suits had rallied from its September 11 low ($5.85) to $29.55 on October 15. The issue even reached $34.75 in frenzied premarket trading on October 14, which coincided with the fear of rampant outbreak of the disease.
Related Link: The Importance Of After-Hours And Premarket Trading
Back Down To Earth
After reaching those elevated levels and with no new cases being reported, Lakeland came back down to earth. Its all-time closing high was put in place on October 15 ($23.60) and only five days later it closed at $13.13. Those that chased the issue during its parabolic move were saddled with huge potential losses.
Earlier this week, Lakeland returned to the $13.00 area and put in place a few lows at $12.91 on Wednesday and $12.23 on Thursday. That low coincided with its low from October 9 ($12.24), which was the launching pad low for the move to all-time highs.
It found support in that area for two different reasons.
First of all, bruised and battered shorts may have been keying on that level to cover before more news that hit the tape. Second, patient buyers looking for a lower risk entry point may have sprung into action anticipating more cases being reported.
Their timing could have not been better, as another case was reported in New York City on Thursday afternoon. Not only did the news disrupt a nice rally in the broad market, but it also provided a catalyst for Lakeland shares. After bottoming at $12.23 earlier in the session, it rallied to close at $15.26.
As the equities markets were closed at the time of confirmation for the latest case, Lakeland was unable to react to the news. The S&P 500 index futures were open and spiked down to 1,931.75, but quickly rebounded. It should be noted the index has not come close to that depressed level during the regular session, finding intraday support at 1,939.00 and resting at the 1,960 level at time of publication.
What The Big Money Is Doing
Lakeland, which opened for premarket trading at 4:00 a.m., rallied to $19.00 by 6:30 a.m.; it has been lights out since then. After its 9:30 a.m. opening, it found resistance well ahead of that level and found willing sellers in the same exact area it did on Thursday ($16.20), peaking at $16.25.
The aggressive buyers that took advantage of the recent decline may have taken the advice of All About Trends' Harlan Pyan, who preaches "sell your peanuts when the circus is in town." In other words, taking advantage of the aggressive buyers who react to unknown fears as opposed to more rationally-based trading. The buyers that chased the issue utilized the unexpected rally to exit their positions.
In these momentum issues, news that hits the tape and the immediate reaction to the news is not always the correct one.
At time of publication, Lakeland was trading down 12 percent at $13.43.
Tune in every morning, Monday-Friday, from 8-9:45 AM EST to hear Joel Elconin and Dennis Dick discuss what's moving the markets and why on Benzinga's #PreMarket Prep.
View Comments and Join the Discussion!
Posted-In: EbolaTechnicals Movers & Shakers Intraday Update Trading Ideas General Best of Benzinga