Can Intel Continue To Defy Gravity?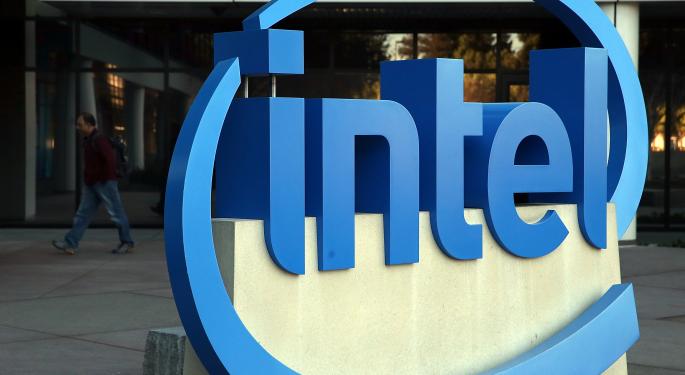 The most recent stage in the bull market has been fueled in part by a rally in the "old technology" sector.
Issues that were the darlings of the Internet bubble back in 2000, then left for dead along with the rest of market in 2009, have resurfaced on the investment landscape.
There is no better example of this phenomena than the price action of Intel Corp (NASDAQ: INTC). After reaching $75.69 in September 2000, it could have been had for $12.06 in November 2008.
Since that time, and on the heels of a steadily increasing revenue stream, Intel reached $34.83 last week. Although it has retreated slightly, the company is attempting to build a base at the $34.00 level and mount another rally.
A Stair-Step Rally?
Until mid-June, the rally in Intel shares had been in stair-step fashion: that is, gradually mover higher, followed by a few days of consolidation -- and then another incremental move higher and then a repeat of this pattern.
Related: Blackberry Attempts To Rebound From IBM/Apple Deal
That all changed when the company raised its FY guidance on June 12, from revenue estimates of $13.02B to a much higher-range of $13.40B to $14.00B. In a very uncharacteristic manner for Intel, it opened much higher and maintained its gains for the entire session.
After closing at $27.96 that day, it ended the next session at $29.87. After a few days of consolidation and a breach of the major psychological resistance level of $30.00, the company quietly added nearly another $2.00 before the actual Q2 results were announced, closing at $31.71 on July 15.
Investors leaning on the company's strong guidance were rewarded when Intel topped Wall Street estimates by $0.03 ($0.55 vs. $0.52), with its Q2 results on July 15. The company easily delivered on the upward guidance with revenues of $13.80B versus estimates of $13.68B. More importantly, it raised it guidance higher for the second time in a month for Q3, from $14.02B to $13.90B to $14.90B.
Analysts Remain Mixed
Once again, Intel opened substantially higher (from $31.71 to $33.31). Instead of digesting the move as it did before, it added more than another point to end the session at $34.65. After a few turbulent days, Intel reached its highest level since 2003 at $34.83. It should be noted that the company stalled at $34.51 in November 2003, and it has taken 11 years to revisit that key resistance level.
As the proverbial tail that wags the dog, nearly every one of the 20 or so analysts who follow the issue raised their price targets for Intel. The Street's high price target resides with Drexel-Hamilton with at $50, but better known Jeffries has a slightly lower price target of $45.00.
The earnings beat prompted the UBS analyst to upgrade the issue from Neutral to Buy, but with a modest $37.50 price target.
Other Wall Street firms still remain negative on the issue. Nomura, which maintained its Neutral rating, raised its target from $27.00 to $29.00. Surprisingly, the Street's low estimate comes Goldman Sachs, who has Sell/Neutral rating and a paltry $20.00 price target, which is up $18.00 after its earnings and revenue beat last quarter.
Where Next?
The chart pattern for Intel now is beginning to resemble the one it formed after its initial raising of guidance. The low from the next trading session, after the news has been released, has not been violated. The low from June 13 ($29.56) has not been seriously challenged, while the low from July 16 ($33.21) has survived over the next eight trading sessions.
In the interim, Intel appears to be building a base at the $34.00 and, similar to the overall market, any declines are short-lived. Perhaps the issue is preparing to take aim on its February 2002 high ($35.07) or even its January 2002 high ($36.78).
With analysts still digesting the double dose of good news and earnings not out due out for another three months, the Street will be seeking a catalyst to take the issue higher. But does it really need one? Since it meandered higher after the initial news, it just may continue to grind higher for the next three months and wait to see if the company can continue to increase revenue at this torrid pace.
Posted-In: Intel Intel Corp.Technicals Movers & Shakers Intraday Update Tech Trading Ideas General Best of Benzinga
View Comments and Join the Discussion!