Bridgewater Associates Warns Investors Of 1937-Like Market Slump, Robert Shiller Agrees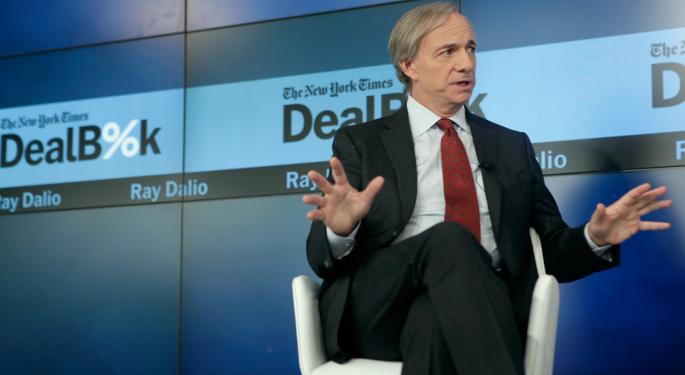 Ray Dalio and Mark Dinner of Bridgewater Associates, the largest hedge fund in the world in terms of assets under management, wrote a note warning investors that with the Federal Reserve increasing rates soon and fast could result in a 1937-like slump in the markets.
Although the note was published on March 11, it was Financial Times that reported about it first on Tuesday.
In the note, Bridgewater Associates wrote, "We don't know – nor does the Fed know – exactly how much tightening will knock over the apple cart."
The note continued, cautioning, "We think it would be best for the Fed to err on the side of being later and more delicate than normal."
Nobel Laureate and Yale University Economics Professor Robert Shiller was on Bloomberg Wednesday to weigh in on this.
Agree With Dalio
Shiller was asked if he shares the same concerns as Dalio and Dinner. He replied, "Definitely a concern."
He also revealed the perspective that "1937 was the year when the word recession was invented."
Related Link: Robert Shiller: Europe Is Cheaper, Thinking About Getting Out Of U.S. Equities
The Fed Can't Raise Slowly
On why Fed can't raise rates very slowly and simultaneously see what its effects are, rather than not raise them at all, Shiller said, "Well, I think we don't know whether we can do that; it depends on how the market reacts and the psychology is kind of high-strung right now. But, I suspect we can do that."
Comparisons With The Great Depression
Shiller hopes that comparing today's scenario with what caused the Great Depression "is not fear mongering."
He explained, "You have to recognize the Great Depression was the worst economic experience ever for this country. So, it's an outlier. I think that we live in a black swan world, where we worry about these outliers. So, it's healthy to look at them," Shiller concluded.
View Comments and Join the Discussion!
Posted-In: Bloomberg Bridgewater Associates Federal Reserve Financial TimesHedge Funds Federal Reserve Media General Best of Benzinga