Global Economic Overview For January 2017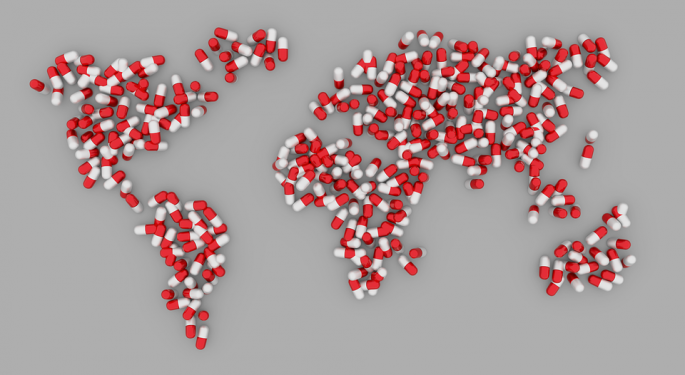 Healthier Europe and Japan Brightens Global Outlook
Even as the prospect of increased fiscal spending and tax cuts in the U.S. continue to get the most attention from equity investors, economic data from the Eurozone have been a positive surprise. For the year 2016, aggregate growth in the common currency area was marginally ahead of the U.S. Consumers and businesses have become more optimistic, the unemployment rate has dipped below 10%, and credit demand continues to improve.
The European Central Bank remains committed to its bond purchases through the end of this year, as it believes the monetary support is necessary to sustain the recovery. Economic growth in Japan during the second half of last year has also exceeded expectations. There are signs of a recovery in export demand in trade data from Asian countries in recent months. The weaker currencies should help exporters in the Eurozone and Japan in the short term.
Global equity prices advanced at the beginning of the year, helped by the improved economic growth outlook and the prospect of better earnings growth. Prices of industrial materials such as iron ore resumed the uptrend and helped equity markets in Latin America outperform during the month. Global manufacturing activity strengthened further in January, helped by gains in major economies including the U.S., China and the Eurozone. Growth in the global services sector also gathered pace at the beginning of the year, as most developed economies reported healthier activity.
Global Industry Spotlight for the Month: Healthcare
The revenue and earnings outlook for the global healthcare sector has come under a cloud recently as governments have aggressively pressured drug manufacturers to lower prices. Service providers are also facing lower earnings growth as governments try to reduce costs and rebuild the financial viability of their healthcare systems. Uncertainties related to sweeping reforms such as the replacement of the Affordable Care Act in the U.S. have added to the healthcare industry's troubles.
The long-term demand growth outlook is brighter in emerging countries, where healthcare consumption remains low. However, governments in those countries are also trying regulatory restrictions on drug pricing and other measures.
The global healthcare sector is facing headwinds in the form of regulatory overhaul and tighter pricing negotiations by populist governments, especially in the U.S. Even as drug makers and healthcare services providers were reshaping their strategies to align with the Affordable Care Act introduced by the previous U.S. administration, the sector is facing the reversal of several key features of that initiative. While the new administration has repeatedly talked about repealing the Affordable Care Act, there is no clear picture of the new structure that would take its place. This has added to the uncertainty facing the sector, as yet unsure of another about turn by a future administration.
In contrast, there is more political agreement over pressuring drug makers and service providers to reduce prices. Considering the fragile financial state of most government-run healthcare programs across the developed world, this was only to be expected. The industry has countered that higher prices are necessary to sustain new research and innovation. It is also argued that higher prices, after trade discounts, have had only a moderate effect on the revenues of drug makers. Nevertheless, it is likely that the pressure on the industry to make healthcare more affordable will remain. Governments may also try to increase the market access for lower priced versions, such as generic drugs.
Despite these short- to medium-term uncertainties, the long-term demand outlook for the sector remains robust. Most developed economies have aging populations and demand for healthcare products and services is likely to only grow. The short-term pressure on pricing and margins have kept sector valuations relatively low. This could boost mergers and acquisitions activity in the coming years, as the larger companies with strong cash flows look to strengthen their product offerings or enter new market segments.
The long-term demand outlook is brighter in emerging countries, where healthcare consumption is still very low. Growing incomes and rising health awareness could boost demand, especially in countries with large populations that would allow sufficient operational scale and efficiencies. Government policy is also crucial in enabling a favorable environment to achieve this growth potential. The basic healthcare services in several of these countries are controlled by the government or are heavily subsidized. As a result, some governments have instituted price controls for the most widely used drugs and other healthcare services. Nevertheless, much of these restrictions are in the low margin commoditized segments and leave the industry sufficient space for growth.
For a free subscription to any of our economic report offerings, please visit our Subscriptions page,or visit us at thomaswhite.com or at The New Global.
To learn more about Thomas White International, watch Capturing Value Worldwide
This article is for informational purposes only. This article is not intended to provide tax, legal, insurance or other investment advice. Unless otherwise specified, you are solely responsible for determining whether any investment, security or other product or service is appropriate for you based on your personal investment objectives and financial situation. You should consult an attorney or tax professional regarding your specific legal or tax situation. The information contained in this article does not, in any way, constitute investment advice and should not be considered a recommendation to buy or sell any security discussed herein. It should not be assumed that any investment will be profitable or will equal the performance of any security mentioned herein. Thomas White International, Ltd, may, from time to time, have a position or interest in, or may buy, sell or otherwise transact in, or with respect to, a particular security, issuer or market on our own behalf or on behalf of a client account.
FORWARD LOOKING STATEMENTS
Certain statements made in this article may be forward looking. Actual future results or occurrences may differ significantly from those anticipated in any forward looking statements due to numerous factors. Thomas White International, Ltd. undertakes no responsibility to update publicly or revise any forward looking statements.
Posted-In: Health Care Markets
View Comments and Join the Discussion!