Is Sangamo The Next Biotech Stock To Break Out?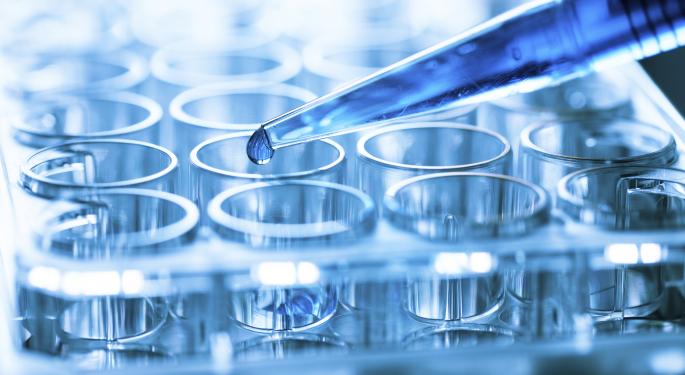 Many biotech stocks have been breaking out over the past two months.
Newlink Genetics Corp and Incyte Corporation both skyrocketed in October.
After that, stocks of Ariad Pharmaceuticals, Inc. and Celldex Therapeutics, Inc. both had nice, quick pops last month.
Then there was Kite Pharma Inc's huge jump earlier this month.
So, Who's Next?
The Company: Sangamo Biosciences, Inc.
Ticker Symbol: (NASDAQ: SGMO)
Sector: Healthcare
Industry: Biotechnology
Sangamo focuses on the research, development and commercialization of zinc finger DNA-binding proteins for gene regulation and modification.
Related Link: Kite Pharma Breaks Out, Again
The company has collaboration and license agreements with Shire International GmbH and Biogen Idec Inc.
Below is a one-year chart of Sangamo with the added notations: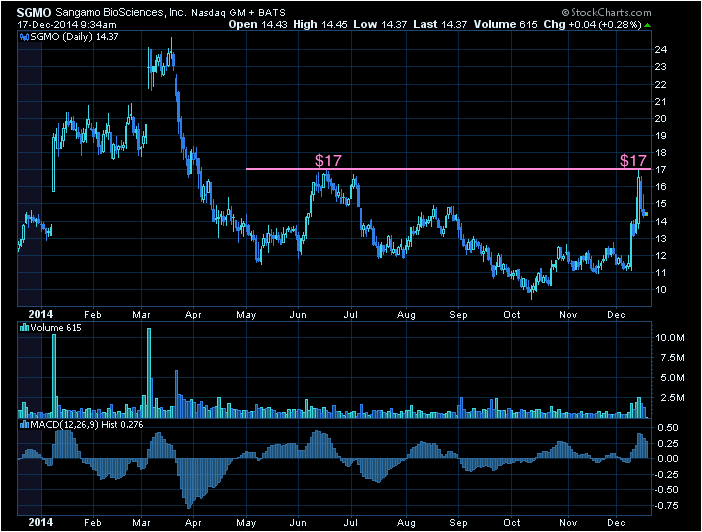 Sangamo can certainly go on some wild rides.
The stock popped big back in December and January, but also fell off a cliff in March and April.
Sangamo had a nice rally in June, but then gave it all back in July. So, the stock's ability to move is not in question.
All those moves being said, imagine if Sangamo could break through the key resistance level of $17. Compare the similar breakouts of the stocks listed above to get an idea.
The stock closed Tuesday at $14.33.
No matter what your strategy, or when you decide to enter, remember to use protective stops and you could be around for the next trade. Capital preservation is always key.
Tags: Shire International GmbH
Posted in: Health Care Technicals Trading Ideas General Best of Benzinga