Acorns Wants To 'Change The World' With Its New Investing App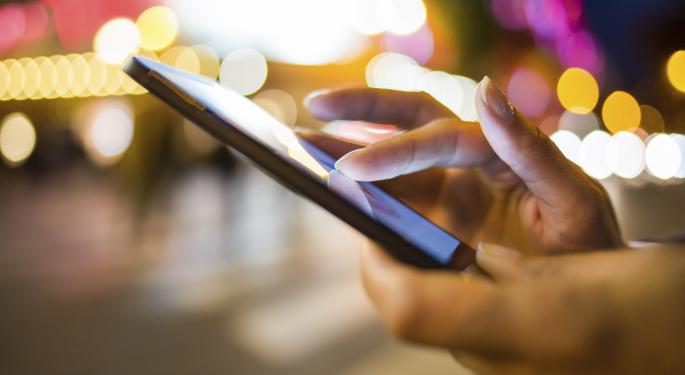 Can an app change the way individuals invest? Walter Cruttenden, co-founder of Acorns, is on a mission to find out.
"We just want to enjoy our lives and change the world," Cruttenden, a serial entrepreneur, told Benzinga.
He set out to achieve this goal after his son, co-founder Jeff Cruttenden, boasted about the potential for smartphones. Both of them had witnessed the success of online trading. Walter Cruttenden was on the frontlines when he founded E*Offering, which was once the investment banking arm of E*TRADE.
"There's roughly 100 million people that under save (or under invest)," said Cruttenden. "You can open an account at 18 but most people really don't get their act together until they're 30-something. What we wanted to do was take out the inhibitors there. One inhibitor is coming up with a lump sum. If we can break it down so that anybody can start with any amount, any time, that makes people start earlier. It shows up in our demographics. A full 35 percent of our customers are under the age of 22, which is kind of unheard of at a brokerage firm."
Related Link: Two-Man Startup Attracts JPMorgan And Goldman Sachs, Other Clients
Acorns differs from other brokerage firms in that it allows individuals to invest their spare change automatically.
"You get this constant inflow of funds with no one amount being painful and yet over time it really does build your account," Cruttenden added.
As Simple As A Swipe
Acorns features five different portfolios that were designed in conjunction with the company's advisor, Dr. Harry Markowitz.
"He's the father of Modern Portfolio Theory," said Cruttenden. "These portfolios range from conservative to aggressive."
When users swipe their finger to the left, they'll get a more conservative portfolio (an increased mixture of bonds and a decreased mixture of stocks). When they swipe to the right, they'll get a more aggressive portfolio (an increased mixture of equities and a reduced mixture of bonds).
"It's classic portfolio theory," he said.
iOS Leads The Way
Like so many other apps before it, Acorns chose to launch on iOS first.
"iOS, number one, it's a much simpler process to develop for," Colton Dillion, chief innovation officer of Acorns, told Benzinga. "There are only two phone resolutions. Android has a thousand platforms with 10 different OSes to develop for. It certainly helps to focus the product when you start [on] iOS first. In addition, there's a lot of affinity between people who use Apple phones and people who want to get started in investing."
Though the app may have come to iOS first, Acorns is currently working on an Android version.
Dealing With Negative Reviews
The latest version of Acorns has a 3.5 star rating on iTunes. Most of the reviews appear to be positive, but there have been a few complaints from some of the app's early adopters.
"The growth has been far more than expected," said Cruttenden. "It's just been unbelievable the demand for the product. You can't even conceive of how many people are calling in. I admit that our customer service department is at maximum capacity trying to handle all of the calls, but the app works great."
Dillion said that many of the one-star reviews originated from a "small" subreddit called r/personal finance.
"There's a gap in the understanding of what our product actually does for some of them," Dillion explained. "A few of them have gotten the idea that we charge one percent per month or something of that nature, so there's a little bit of misinformation being spread on that point."
Related Link: Top 5 Security Risks Quietly Eroding Your Privacy
In reality, Acorns charges $1 per month as soon as a user has an account balance.
"If you download the [free] app and have a zero balance, we charge no fees," said Dillion. "But once you make your first trade, we charge $1 per month plus an annualized 0.5 percent per year until you have $5,000 in your account, at which point the percent management fee goes down to a quarter percent."
Cruttenden said that this is "very, very competitive" with traditional investment advisors.
"For a lot of critics, the solution is that people should just change their behavior," Dillion added. "But the fact is that people don't change their behavior and they don't want to. [Acorns] allows people to live their lives the way they want to and create good behaviors that are attached to their normal behaviors, that are highly beneficial in the long run."
Disclosure: At the time of this writing, Louis Bedigian had no position in the equities mentioned in this report.
Posted-In: Acorns Android Colton Dillion iOS Jeff CruttendenEntrepreneurship Tech Interview Best of Benzinga
View Comments and Join the Discussion!