Here's How Much Investing $1,000 In Amazon At Dot-Com Bubble Peak Would Be Worth Today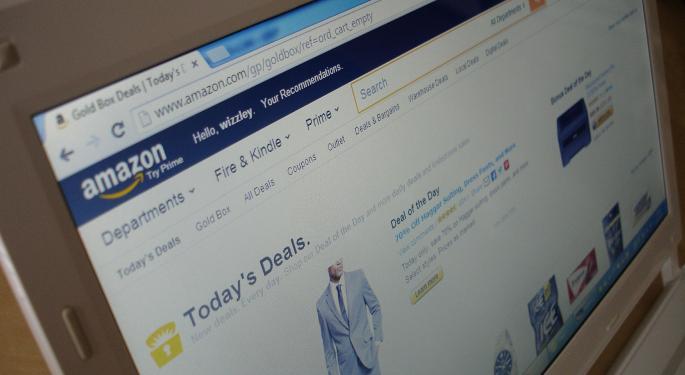 Despite an ongoing pandemic and the U.S. economy barely limping along, the Nasdaq is trading at all-time highs and is now more than 65% above its March lows. The surge in tech stocks in 2020 has understandably led investors to draw comparisons to the dot-com bubble in 2000.
The Nasdaq ultimately peaked at 5,048.62 on March 10, 2000. Of course, some dot-com bubble stocks have performed much better than others in the 20 years since the bubble burst.
Amazon's Dot-Com Bubble Rebound: Amazon.com, Inc.'s (NASDAQ: AMZN) past 20 years were defined by two major trends. First, Amazon expanded beyond its core e-commerce business into cloud services, giving the company a massive first-mover advantage in one of the largest and fastest-growing segments of the tech world. Last quarter alone, Amazon reported $10.8 billion in AWS cloud revenue.
The second major trend for Amazon in the last 20 years has been its push to expand its delivery capacity and initiate more of a physical retail presence. Amazon acquired Whole Foods in 2017 and has since made it a priority to challenge Walmart Inc (NYSE: WMT) in the grocery business.
Amazon's high watermark of the dot-com bubble was $113 back in 1999. When the bubble burst, Amazon traded all the way back down to $5.51 in late 2001.
Amazon shares peaked at $101.09 prior to the 2008 financial crisis, but only dropped as low as $34.68 during crisis sell-off.
It took Amazon roughly 10 years to regain all the value it lost following the bursting of the dot-com bubble, but the stock made it back to new all-time highs by late 2009. From that point forward, there was no looking back.
Amazon hit $200 in 2010, $500 in 2015, $1,000 in 2017 and $3,000 just this year.
Amazon investors who bought at the dot-com bubble peak had to wait a decade to turn a profit on their initial investments. But those that held on to this day have done just fine.
In fact, $1,000 invested in Amazon stock at the dot-com bubble peak would be worth about $49,500 today.
Related Links:
Here's How Much Investing $1,000 In Apple At Dot-Com Bubble Peak Would Be Worth Today
View Comments and Join the Discussion!
Posted-In: Education Top Stories Tech General Best of Benzinga