Why Are Viacom's Share Classes Trading So Far Apart?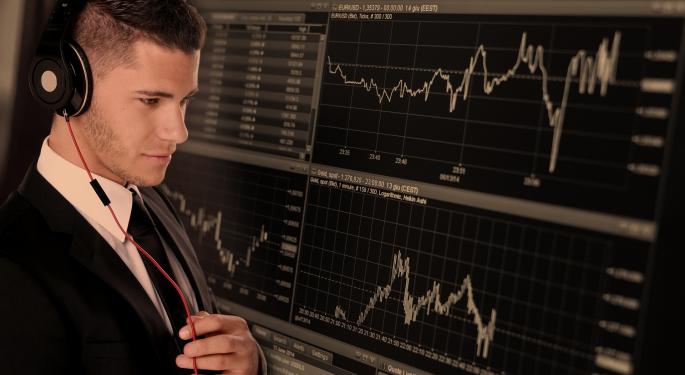 The two classes of Viacom stock, the Viacom, Inc. (NASDAQ: VIA) voting rights shares and the Viacom, Inc. (NASDAQ: VIAB) non-voting shares, once traded almost completely in tandem, but they have drifted apart in valuation over the past 15 years. In the past week, that divergence has been a bit more than just a drift.
From Drift To Cascade
Despite the fact that the VIA and VIAB shares represent equal ownership stakes in the same company, VIA shares have jumped 7.5 percent in the past five trading sessions to above $40 per share. Over that same stretch, VIAB shares are down 1.1 percent to around $30 per share, leaving Viacom traders scratching their heads about what's going on with the stock. While there is certainly a value to voting rights, there seem to be other market forces in play when it comes to Viacom.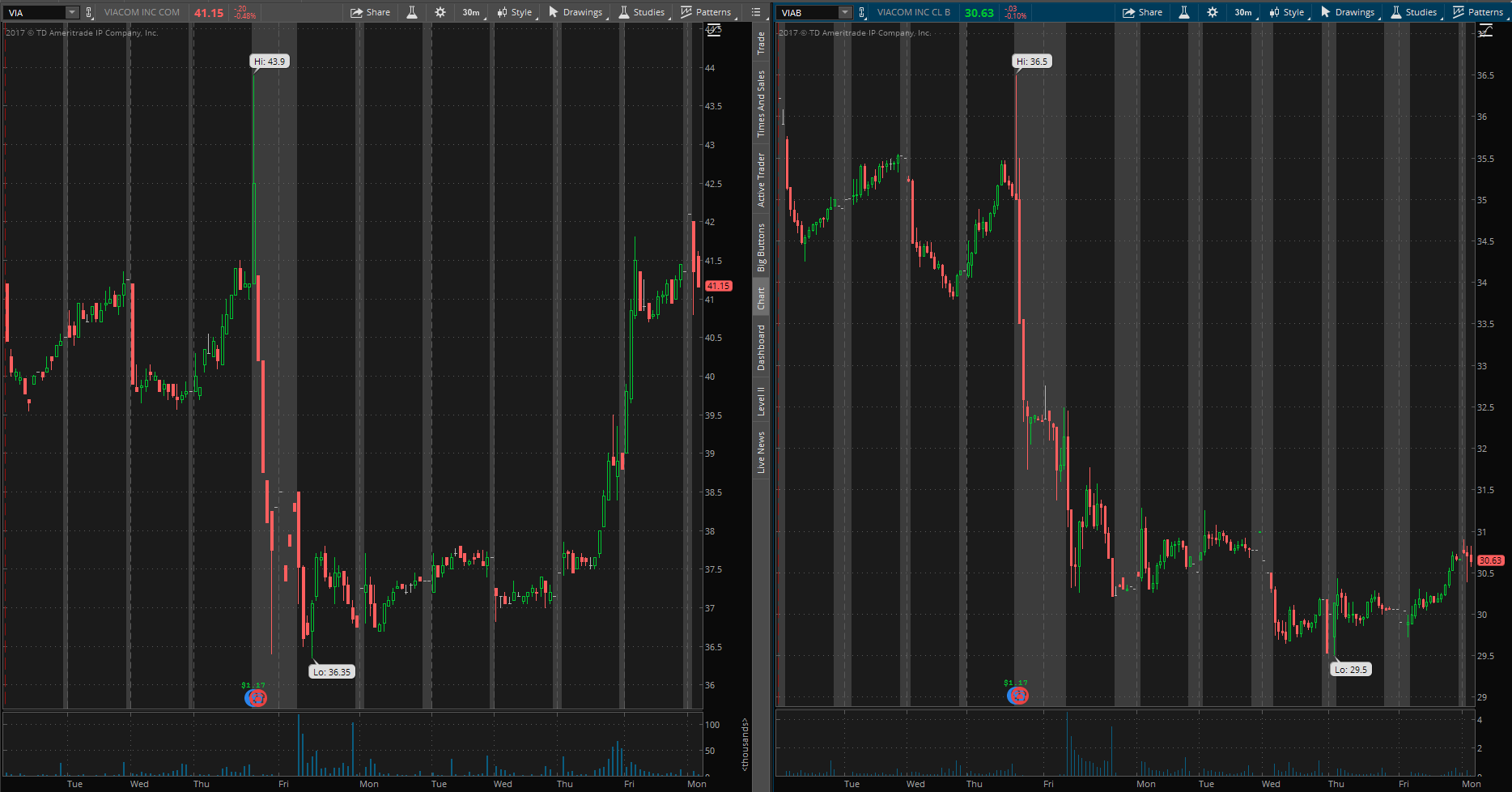 On last Friday's Benzinga PreMarket Prep, co-host Dennis Dick, who at one point in his trading career traded Viacom stock exclusively, said there's an underlying reason why these two stocks that normally share a 99 percent correlation have been headed in opposite directions.
Difficult To Borrow
"The main reason is that VIA became very difficult to borrow a week ago," Dick said. "So, you've got shorts that probably had the spread on — I actually had it on a week ago but I blew out of it, I'm glad I did because I would've got killed — but you have professional traders that are basically saying, 'Oh [the spread between the two stocks] is 5–6 points, it's going to come back to the 3 point range.'"
The $VIA $VIAB pain train continues, blowing out another 5% today, despite being the same company! Poster child for this inefficient market.

— Dennis Dick (@TripleDTrader) August 11, 2017
It's all to do with the "locate", can't find a borrow on this right now. Do you have a locate on it?

— Dennis Dick (@TripleDTrader) August 11, 2017
I've traded that spread for 18 years....never seen a blow out like this.

— Dennis Dick (@TripleDTrader) August 11, 2017

Dick said these traders are in a dangerous spot at the moment, as VIA appears to be at risk of a short squeeze. If the stock gains too much upward momentum, short sellers could be subject to buy-ins, a situation where brokers force short sellers to cover their positions at market price without their consent. Dick said buy-ins are always a risk that comes along with shorting stocks that are hard to borrow.
"It doesn't matter if you're going to be right in the long run, you will get bought in and you will lose money," he said.
Related Link: Explaining The Price Discrepancy Between Viacom's Share Classes
Something Has Changed
Dick said VIA hasn't always been hard to borrow, and something must have changed in the recent past. He speculated that it may have something to do with the fact that a large portion of the VIA shares are held by Viacom CEO Sumner Redstone.
"This has been something that has worked for years, trading these against each other," Dick concluded. "There are probably [risk arbitrage] traders in this losing months or possibly even years of earnings on this."
Posted-In: BZ Premarket PrepSumner Redstone Dennis DickEducation Top Stories Tech Media Trading Ideas General Best of Benzinga
View Comments and Join the Discussion!