Digesting Meal-Kit Service Offerings Ahead Of Blue Apron's IPO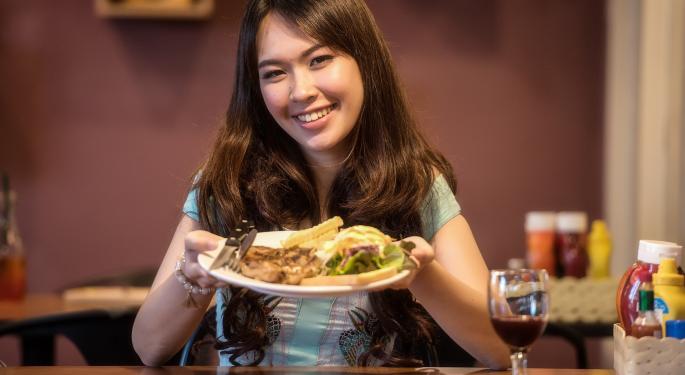 The concept of meal-kit delivery is catching on like wildfire as time-constrained consumers, who still cherish homemade food, are provided with all paraphernalia to dish out a sumptuous meal.
These services help you with recipes, cooking tips and also ship you the exact amount of ingredients that go in the dishes that form part of your meal. The disruptive power of this booming industry is such that it has the potential of supplanting the grocery industry.
Several start-ups have forayed into the sector, the notable among them being Plated, Blue Apron, PeachDish, Chef'D, Purple Carrot, HelloFresh, Terra's Kitchen, Martha & Marley Spoon, Veestro, BistroMD, Sun Basket, Freshly, MagicKitchen and Home Chef.
Widely known publicly traded companies such as Amazon.com, Inc. and (NASDAQ: AMZN), New York Times Co (NYSE: NYT) and food processors such as Tyson Foods, Inc. (NYSE: TSN) have also taken a plunge into the industry.
Packaged Facts estimated that the U.S. meal kit delivery services market to have generated approximately $1.5 billion in sales in 2016. The industry is set to grow into a multibillion-dollar market over the next five years.
Blue Apron's Going Public
Of the start-ups in the industry, Blue Apron is the first to consider offering its shares to public, capitalizing on the rage surrounding the concept. On June 1, 2017, the company filed with the SEC on the FORM S-1 to offer its Class A shares, with the intention of listing them on the NYSE under the ticker symbol APRN.
Based on expected revenues of about $1 billion for 2017, the $3 billion valuation the company is aiming for in its IPO seems to be fair, according to a Motley Fool report.
According to CNBC's Leslie Picker, Blue Apron is "launching its IPO roadshow" Monday:

The price range has been set at $15–$17 in hopes of raising $510 million, said MarketWatch. The company has been approved to start trading under the ticker APRN on the NYSE.
Benzinga looked at the service offerings of different fledgling meal-kit service providers.
Essentially, all of these meal-kit deliverers allow online enrollment and provide more clarity about their services through the FAQ section. They also allow cancellation within a reasonable lead time. Except for some basis ingredients such as oil, salt and pepper and basic tools such as pans, knives and graters, every other thing is provided by these companies.
The differentiating factor among these services is the kind of meal they offer — pure vegan or paleo, gluten-free etc., — the control one has over the menu choices, the quality of instruction and packaging.
Blue Apron
Price: $9.99 per serving or $59.94 per week, with free shipping.
Discount: $30 off on first order.
Cancellations: Skip or cancel anytime.
Type Of Meals: Vegetarian, pescetarian and other dietary preference options.
Plan Choices: two-person plan (Three unique recipes every week serving two people), Family Plan (two or four recipes per week, each feeding four people).
Packaging: Refrigerated box.
Rating: 9.7/10.
Home Chef
Price: $9.95 per serving, can be ordered in two, four or six servings; fruit and smoothie add-ons for $4.95.
Discount: $30 off on first order.
Cancellations: Skip a week or pause whenever needed.
Type Of Meals: Carb- and calorie-conscious recipes, and recipes without gluten ingredients.
Choices: From 13 easy-to-follow recipes.
Packaging: Insulated Recyclable Box.
Rating: 9.8/10.
Martha & Marley Spoon
Price: $5.25 per serving; Two-person box for $31.50/week or Family Box (for four) for $76.80/week.
Discount: $30 off.
Tie-Up: Martha Stewart.
Cancellations: Skip a week.
Packaging: Chilled box and free weekly delivery.
Rating: 9.5/10.
Hello Fresh
Price: Classic Plan, $9.99/meal; Veggie Plan, $9.99/meal; Family Plan , $8.74/meal.
Discount: $50 discount on first and second box and free delivery.
Cancellations: Pause, modify or cancel subscriptions any time.
Type Of Meals: Vegetarian Recipe/Meat, Fish and Seasonal produce.
Plan Choices: 13 new recipes each week.
Packaging: Cardboard box made of recyclable and virgin fibers.
Rating: 8.8/10.
Plated
Price: Two servings per night ($11.95/serving), Three servings per night ($9.95/serving), Four servings per night ($9.95/serving).
Discount: Free Plated Night.
Cancellations: Change plans, skip weeks, or cancel any time.
Type Of Meals: Fresh, no hormone, organic and sustainable.
Plan Choices: Menu with 13 recipes (plus dessert!) each week.
Rating: 8.5/10.
Bon Appetit, folks! The meal-kit service are here to stay to whet your appetite.
Related Links:
Deutsche Bank's Recipe For Food Stock Investing In 2017
Slaughterhouse Scouting Is Shaking Up Food Processing Stocks
View Comments and Join the Discussion!
Posted-In: BistroMDEducation Commodities IPOs Top Stories Markets Tech General Best of Benzinga