The Business Of (Literally) Making Money: The Private Model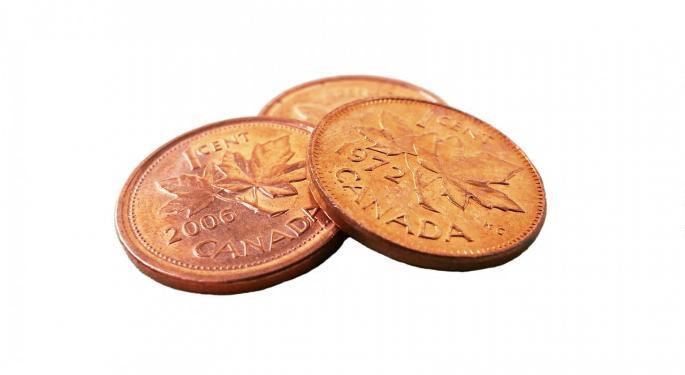 The Royal Canadian Mint (TSE: MNT) (TSE: MNS) is in the business of making money. Literally.
The publicly traded company, which operates as a Crown corporation under the nation's Royal Canadian Mint Act, produces and distributes domestic and international circulation coins.
And unlike the government-run mint supplying Canada's southern neighbor, this business relies on no taxpayer funding.
"We are profit-based as an organization and mandated to operate that way," said Alex Reeves, senior adviser of external communications for the Royal Canadian Mint.
Employee compensation, equipment purchases, research and development — it's all funded by revenue. That means the inherent value of Canadian denominations isn't just based on operational costs, but also the company profit margin.
A Profitable Business
The challenge of the mint, then, is to produce cheap enough coins to sell below assigned value while still generating profit.
"We have ensured that the cost of producing a circulation coin is always below its face value," Reeves said.
But occasionally the company, at the mercy of the metal market, simply cannot fulfill its goal.
In 2012, when Canadian pennies were withdrawn from circulation, the Royal Canadian Mint had come to a point when operational costs exceeded the coin's 1-cent face value. The penny cost Canada 1.6 cents to produce, forced an annual loss of $11 million and was deemed unprofitable.
The mint had no say in the shelving of the denomination but "serve[d] an advisory function" and lent its expertise to the Canadian government as it weighed options.
To Make Money On Money
To ensure profitability, the company invests in a number of techniques and technologies, such as cell manufacturing, to limit production time and improve cost efficiency.
"Naturally, we seek efficiencies through a lot of research and development, and that includes improving our processes as much as possible," Reeves said.
The company would not disclose its coin production costs for the sake of remaining competitive in the international market.
The Competitive Minting Industry
The Royal Canadian Mint not only supplies all of Canada's denominations, but also manufactures coins and plated blanks for foreign governments.
"That's a significant business for commercially oriented mints like ourselves," Reeves said. "Foreign coin production combined with domestic production remains an important part of our annual business activity."
He and the staff contend with a number of for-profit competitors bidding regularly on international contracts — generally for developing nations without their own production capabilities.
The Unimposing Fintech Scene
Despite the recent proliferation of electronic payment methods or cash alternatives, Reeves said fintech trends haven't yet disrupted demand for circulation coins.
"It's not to say there will not be trends in the future affecting demand for cash, but at the same time, cash remains an extremely convenient and viable way of transacting, and it's not going away anytime soon from our perspective," he said, offering a case for physical currency. "It's analog, it doesn't rely on external networks or even electricity. It's there, it exists, and it's easily tradable, so cash remains very much a fact of life in Canada and around the world."
Royal Canadian Mint shares have risen 11.1 percent year-to-date and now rest around $18.31.
Related Links:
Rising U.S. Rates Will Hurt The Canadian Dollar This Year
If You Don't Actually Want To Move To Canada, Here's How To Move Your Money There
View Comments and Join the Discussion!
Posted-In: Alex ReevesEducation Forex Top Stories Economics Federal Reserve Markets General Best of Benzinga