5 Minutes With... Agree Realty CEO Joey Agree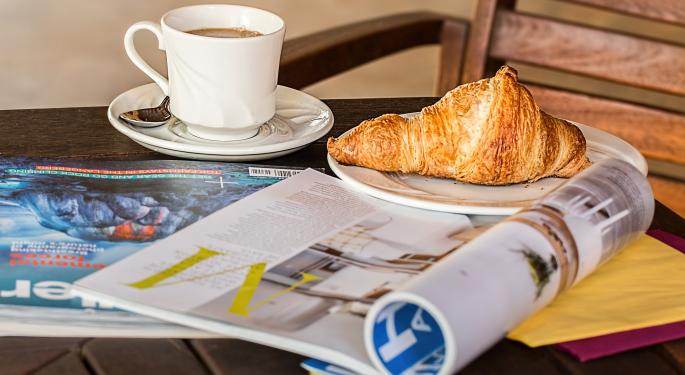 Agree Realty Corporation (NYSE: ADC) is a fully integrated, self-administered and self-managed REIT focused on the development and acquisition of net lease retail properties throughout the United States.
As part of Benzinga's "Five Minutes With …" series, Agree Realty CEO Joey Agree offered insight into the company's philosophy and plans for the future.
Related Link: UPDATE: Compass Point Reiterates Buy on Agree Realty Corporation Post Q3
BENZINGA: Over the past couple of months or so, Agree has undergone some significant management changes. Who are the new faces and what's driving these changes?
Joey Agree: We promoted Laith Hermiz, who's been with us since 2010, to chief operating officer.
We brought on Dan Ravid, who has done consulting work for the company, as chief administrative officer. Finally, Matt Partridge, currently with Pebblebrook Hotel Trust, will join us January 11 as executive vice president, secretary and chief financial officer.
The goal is to put a leadership team in place to put us in position to execute our operating strategy over the next five years. We'd like to reach that $2.5 to $3.5 million enterprise value, which we think is the optimal size for this company. Achieving this will require a strong leadership team.
BZ: Back in October Agree announced year to date acquisition activity and provided some guidance. How are things looking?
JA: We gave initial guidance for the year of $175 to $200 million acquired. As of September 30, we had invested $160 million in acquisitions. We think we're on track to achieve the guidance of $175 to $200 million. This is on top of 2014, which was a record year at approximately $148 million.
BZ: You announced sale of a $5.8 million shopping center September 2 and raised 2015 disposition guidance. Do you remember that?
JA: Yeah. As of September 30, we had disposed of a little bit over $28 million.
Our initial 2015 guidance was for $25 million. Obviously, we surpassed that, so we increased that guidance to $40 to $50 million for 2015.
BZ: Is this good – or a sign of trouble?
JA: No, it's not a sign of trouble. We are active asset managers of our portfolio. You can see year to date, we've divested of three shopping centers.
Now, we're focused on looking at our net-lease portfolio, and opportunistically, assets that no longer fit investment criteria.
BZ: What insight can you provide about how 2016 is shaping up?
JA: We haven't given any guidance for 2016, but we think 2015 is going to be a very successful year, and our focus is on sourcing value for the remainder of this year and in 2016.
This includes leveraging all three of our external growth platforms – acquisition, development, as well as our joint venture capital programs. We want to find the best risk-adjusted opportunities in the net-lease space.
BZ: What does this do for a retail partner?
JA: It provides a unique value proposition that only Agree Realty can deliver. We have the balance sheet and the capital of a publicly traded REIT. We match that and pair it with the DNA, the expertise and the experience of a developer.
We are the only publicly traded net-lease retail developer, so we bring unique capabilities as well as a unique capacity, full service real estate solution for our retail clients.
BZ: How is the shift from a brick and mortar environment to e-commerce impacting strategy?
JA: It's more than impacting strategy. It drives strategy. We're focused on retailers that are recession-resistant and e-commerce resistant.
By definition, these retailers either have a successful omnichannel strategy and are executing on that strategy, or the business, frankly, isn't amenable to an omnichannel experience.
BZ: What are your three favorite sectors right now?
JA: We're looking at a variety of retail sectors including auto parts and auto service. We're also focused on quick service restaurants, casual dining, convenience stores and deep discount.
BZ: What sectors are you staying away from?
JA: We don't redline sectors. We're real estate investors and we have to look at things from all different perspectives and find opportunities where others don't.
That said, you haven't seen us make significant investments in electronics, office supplies, books or hard goods that can either be easily commoditized and sold via e-commerce or suffer from discount, big box discount sales erosion.
BZ: What about any plans to return more cash to shareholders soon?
JA: Our quarterly dividend is 46.5 cents today, or $1.86 annualized, which is about a 5.5 percent yield. That's compelling. Year-to-date, we've grown the dividend 6 percent year-over-year 2015 versus 2014, and it's an important component of total returns for our shareholders.
We have many individual shareholders who rely upon that yield and cash, and are looking for the consistency and predictability of that dividend, and it's growing.
Related Link: Hedge Funds Love These 3 REITs
BZ: You have been buying shares of Agree over the last half of the year - to the tune of about 18,000 shares. Do you have any near-term plans to purchase more shares?
JA: I can't give you guidance on any prospective purchases, but I'll tell you that those are open-market purchases.
Moreover, no one in my immediate family has ever sold a share of stock. We are aligned with our shareholders. We are shareholders. The rationale behind purchases is that I believe in our inner operating strategy; I believe in the transformation we have executed over the course of the last five years; and I believe in the future of this company. I put my money where my mouth is.
At the time of this writing, Jim Probasco had no position in any mentioned securities.
Image Credit: Public Domain
Posted-In: REIT Education Top Stories Exclusives Trading Ideas Interview General Real Estate Best of Benzinga
View Comments and Join the Discussion!