Avid CEO Talks Turning The Company Around And Rejoining NASDAQ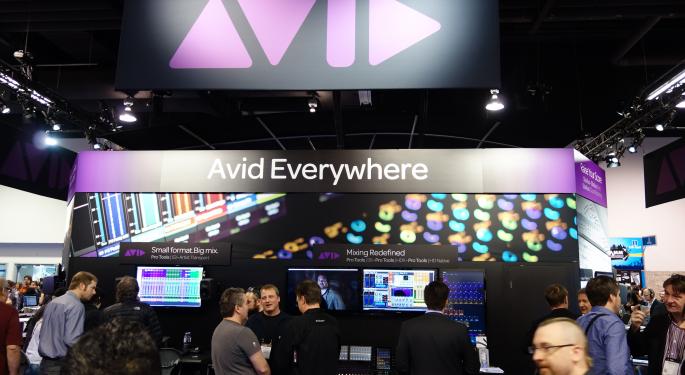 "We're really trying to address the entire business from the entire workflow, not just one piece of the chain," Avid Technology, Inc. (NASDAQ: AVID) CEO, Chairman and President, Louis Hernandez, Jr. told Benzinga.
This represents a philosophical turnaround of sorts for a company that many thought was finished when it was delisted from the NASDAQ Feb. 24, 2014.
Hernandez spoke about where the company has been and where he and his team wanted to take it.
Following is part one of a two part interview.
BZ: Where is Avid coming from?
LH: Avid has an incredible history and brand. It created a category (non-linear editing), digitizing film and converting it back to analog. Avid made things possible.
Like many companies, however, as the industry changed the company had difficulty. Because it had a monopoly, it was slower to adopt.
Related Link: Avid Technology To Acquire Orad Hi-Tec Systems
BZ: What is the plan moving forward?
LH: Fusion of the entire workflow with a three-pronged strategy.
This includes redoing the product suite into something we call Avid Everywhere, adjusting our service model and launching the Avid Customer Association – a separate legal entity of the largest media companies in the world.
BZ: What is Avid Everywhere and how does it work?
LH: Avid Everywhere is an operating system/ecosystem. Think about your iPhone. The operating system underneath it runs all the apps.
Historically, Avid had applications that stood alone on the creative side, like ProTools, Media Composer and Sibelius. We wanted to share as much of the common services of applications to allow users to complete the workload.
BZ: How do you plan to accomplish that?
LH: We built this thing called the Avid Media Central Platform – on top of it sit our heritage products.
We also launched a series of products to continue that workload, protect the assets, tag the assets, store the assets and to make them available in the cloud to allow users to connect with other users.
BZ: What have been the results so far?
LH: All that is what reversed the fortune for the company. We saw an immediate uptake and change in our economic profile and dramatic impact on our economics.
Related Link: Update: BWS Financial Initiates Coverage On Avid Technology
BZ: What surprises, if any, did you encounter in rejoining the NASDAQ?
LH: One surprise was that we had to go through a restatement. The nice thing about the restatement is that we got to complete all this work almost like a private company because we couldn't talk about what we were doing.
We finished the restatement, emerged from that and all of these products were available.
BZ: What were some of the problems you tried to solve in addressing the entire business through the platform?
LH: We tried to solve the business issues as well as acknowledge that each user would use our products in a different way.
Adding a subscription plan was very important because it allowed us to address the Tier III (independent) end of the market. Subscription allows Tier III to gain affordable access.
BZ: What are some of the business issues that had to be solved?
LH: Creating high quality content, optimized for more channels and devices, something that adds to cost.
In addition, maximizing value by ensuring efficiency and security while allowing users to collaborate from everywhere.
Related Link: Update: JPMorgan Downgrades Avid Technology
BZ: What about Tier I and II (large media) companies?
LH: Tier I and II are more cautious about pure cloud-based products. Large enterprises are sticking with floating licenses or on-premises.
Some, like news, are experimenting with cloud, but film is not comfortable with cloud.
BZ: Have any partnerships evolved in the new Avid?
LH: We are partners with Adobe Premiere.
We've built a global ecosystem for the media industry, which includes Adobe and Apple and others.
The main business problem for media is the entire workflow. If you use Adobe for your editorial suite, you still need to do audio, you still need to integrate storage, you still need to integrate security and distribution.
BZ: So, by building an OS, essentially you are giving users the freedom to choose the applications they prefer?
LH: What Avid is trying to do is solve the whole problem. We're allowing you to pick and choose the applications you want to run, whether ours or somebody else's."
Coming soon in Part 2: Inside Avid Everywhere.
At the time of this writing, Jim Probasco had no position in any mentioned securities.
Image Credit: "2015 NAMM Show - DSC00594 (16183306800)" by Pete Brown from Gambrills, MD, USA - DSC00594. Licensed under CC BY 2.0 via Wikimedia Commons
Posted-In: Adobe Premiere Apple Avid Customer AssociationEducation Success Stories Exclusives Interview General Best of Benzinga
View Comments and Join the Discussion!