Parchment CEO Matt Pittinsky Explains How To Turn Credentials Into Opportunities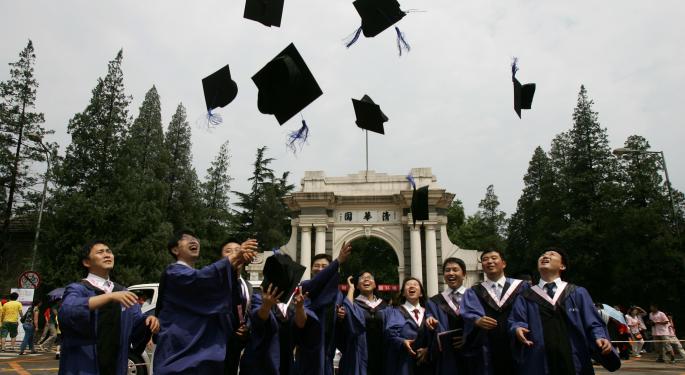 As an online credential exchange, Parchment's mission, according to CEO Matt Pittinsky, is "to turn credentials into opportunities."
Benzinga spoke with Pittinsky recently about Parchment, how the company operates and how it has attempted to achieve its mission.
Parchment's Profile
Benzinga: What is Parchment?
Pittinsky: We facilitate quick, secure transport of transcripts and other academic credentials and documents. We solve the problem of how do you get your credentials and how do you get them in a more efficient, electronic and easy way.
Related Link: 10 College Value Stats That Might Surprise You
Benzinga: Who uses Parchment services?
Pittinsky: We have a set of institutional customers and a set of consumer customers, which we call "learners." The consumer customers are currently enrolled students in high schools and colleges as well as alums who need to request their transcript or other academic credentials to be delivered to an employer or admissions office or to have a copy themselves.
Our institutional customers are schools and universities that want to be able to take online orders for credentials or to process incoming. This also includes admissions offices that need to process transcripts for potential students.
Parchment And Profiting
Benzinga: How does Parchment monetize?
Pittinsky: We make money when you order your credentials to be delivered to a destination [institution or company]. Some institutions or companies engage in a subscription so that would-be students, alumni or employees can send credentials free of charge.
Benzinga: How large is the market and how much of it does Parchment serve?
Pittinsky: We estimate there are about 16 million high school students in the country today with about 20 percent of them Parchment members. When you look at the higher education market, we estimate there are about 50 million current students and alums of which 15 percent come to Parchment. A big part of our strategy is to grow that institutional network so more and more learners will come to Parchment.
Parchment Offers Something Original
Benzinga: How is Parchment unique?
Pittinsky: Operational efficiency and convenience to the consumer is a foundational proposition of what we do. The goal of the company is to help consumers turn their academic and professional credentials – including certifications and licenses – into the opportunities they went to school to realize. Our goal is to make it easy for people not just to order their credentials but then collect them and benefit from data we have about what they know and how well they know it.
Parchment: Looking Ahead
Benzinga: How can Parchment help businesses?
Pittinsky: There are two key things we offer to businesses. First, is the ability to secure true, verified credentials. There is significant credential fraud today and there is reputation as well as cost associated with that credential fraud.
The other thing we offer to business is the idea that I can actually get access to academic credentials so that I can begin to think about underlying achievement in quantitative versus qualitative areas. Too often, it's the status of the institution and not actually what is learned. I think there's an opportunity with digital credentials to go past that and really begin to benefit from the power of the underlying data.
View Comments and Join the Discussion!
Posted-In: credentials Matt Pittinsky ParchmentEducation Entrepreneurship Interview General Best of Benzinga