#PreMarket Prep Guest List For The Week Of September 22, 2014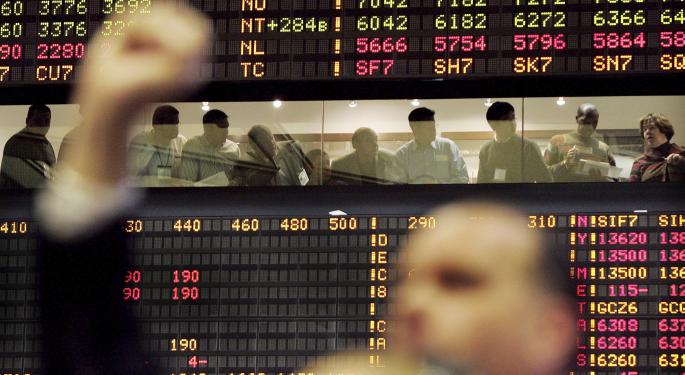 It's a week of "oldies but goodies" on Benzinga's #PreMarket Prep broadcast, sponsored by Charles Schwab, but keep a look out for a few new faces as well!
Be sure to tune in at 8:00 a.m. EST Monday-Friday here to tune in to the exciting show.
Monday, September 22, 8:35 a.m.
Anne-Marie Baiynd (@AnneMarieTrades), Author and Financial Analyst
Anne-Marie Baiynd is a trader, author and financial analyst best known for her book, "The Trading Book Course: A Practical Guide to Profiting with Technical Analysis."
9 a.m.
Guy Spier, Managing Partner at Aquamarine Capital and Author of "The Education of a Value Investor"
Guy Spier has run the Aquamarine Fund for the last 17 years, producing a formidable record of market-beating investment returns. He launched it with $15 million in assets, closely replicating the approach of Warren Buffett's original partnerships.
9:20 a.m.
Greg Harmon (@harmongreg), CIO & Partner at Presidium Capital and Founder of Dragonfly Capitol
Greg Harmon has more than 25 years of trading experience at BNP Paribas, State Street and JPMorgan. He is the author of "Trading Options: Using Technical Analysis to Design Winning Trades."
Tuesday, September 23, 8:35 a.m.
Nic Chahine (@racernic), Marketfy Maven and Author of "Create Income With Options Spreads"
Nic Chahine will join the show every Tuesday to discuss the week's options outlook.
9 a.m.
David Katz (@TradingFibz), Marketfy Maven and Founder of TradingFibz LLC
David Katz teaches in a methodical manner so traders get it and can invest or trade with confidence.
9:20 a.m.
Nate Tobik (@oddballstocks), Investor and Founder of CompleteBankData.com
CompleteBankData is a place for information on banks, banking institutions and bank-holding companies. Nate Tobik also runs oddballstocks.com, an investment blog that uses research from CompleteBankData.com.
Wednesday, September 24, 8:35 a.m.
Fari Hamzei (@HamzeiAnalytics), Founder of Hamzei Analytics
Fari Hamzei joins the show every Thursday, bringing his wealth of knowledge on aggressive equity options and index futures trends.
9 a.m.
Ann Logue (@annielogue), Freelance Writer and Consulting Analyst
Ann Logue is a freelance writer and consulting analyst who is fascinated by business and technology. She is also the author of "Day Trading for Dummies."
Thursday, September 25, 8:35 a.m.
Harlan Pyan (@AllAboutTrends), Co-Founder of All About Trends
All About Trends is a subscription-based newsletter service focused on helping individuals secure consistent profits in the market by trading what they see, not what they think, hear or fear.
9 a.m.
Kevin McPartland (@kmcpartland), Principal of Market Structure and Technology at Greenwich Associates
Kevin McPartland leads the firm's market structure and technology practice and has nearly 15 years of capital markets industry experience with a deep expertise in OTC derivatives and financial services technology.
9:20 a.m.
Serge Berger (@SteadyTrader), Head Trader & Investment Strategist at The Steady Trader
Serge Berger has been an active trader since 1998. During his career, he's been a financial analyst, dealt in fixed income instruments at JP Morgan and was a proprietary trader in equities, equity options and futures.
Friday, September 26, 8:35 a.m.
Rachel Shasha (@Sassy_SPY), Trader and Blogger at Sassy Options
Rachel Shasha is currently a full-time trader and regular contributor to The Street. Her main strategy involves trading both short- and long-term options using technical analysis, open interest and sentiment/psychology.
9 a.m.
Dirk Friczewsky (@FXDIRK), Professional Trader and Technical Analyst
Dirk Friczewsky is a professional trader and technical analyst at Friczewsky Financial Markets. He provides daily trading signals for asset classes like stocks, bonds, currencies, indices, commodities and interest futures.
9:20 a.m.
Greg Michalowski (@gregmikeFX), Director of Client Education and Technical Analysis at ForexLive.com
Greg Michalowski has 28 years of experience as a trader and financial analyst. His experience includes 10 years at Citibank, five years with Credit Suisse First Boston and 13 years with FXDD as a retail Forex broker.
View Comments and Join the Discussion!
Posted-In: Ann Logie Anne-Marie Baiynd Benzinga #PreMarket Prep David Katz Dirk FriczewskyEducation Pre-Market Outlook General Best of Benzinga