#PreMarket Prep Guest List For The Week Of August 18, 2014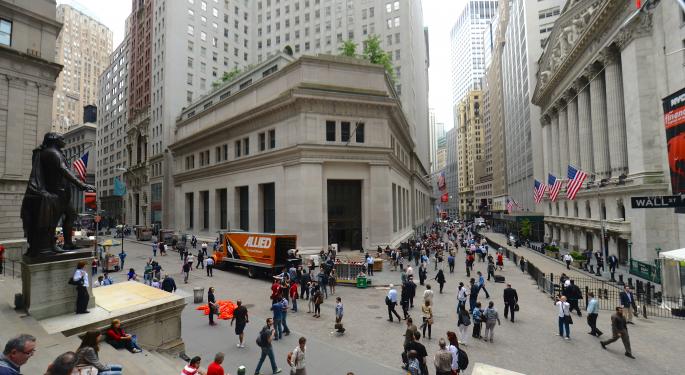 There are many familiar faces as well as some fantastic newcomers on Benzinga's #PreMarket Prep broadcast, sponsored by OptionsHouse.
Be sure to tune in at 8:00 am EST Monday-Friday here to get your daily dose of market analysis and insight.
Monday, August 18, 8:35 a.m.
Greg Harmon (@harmongreg), CIO and Partner at Presidium Capital and founder of Dragonfly Capitol
Greg Harmon has more than 25 years of trading experience at BNP Paribas, State Street and JPMorgan. He is the author of Trading Options: Using Technical Analysis to Design Winning Trades.
9 a.m.
Jim Lacamp (@MarketCamper), Senior Vice President and Portfolio Manager with Macroportfolio Wealth Management at UBS
Jim Lacamp has been in the financial services industry for 29 years and is a graduate of Baylor University with a double degree in economics and finance. He currently manages more than $400 million in investor assets along with his partner, Pat Reddell.
9:15 a.m.
Greg Michelowski (@gregmikeFX), President of GregMikeFX.com and Author of "Attacking Currency Trends"
Greg Michalowski has 28 years experience as a trader and financial analyst. His experience includes 10 years at Citibank, five years with Credit Suisse First Boston and 13 years with FXDD as a retail Forex broker.
9:30 a.m.
Kara Swisher (@karaswisher), Co-Executive Editor for Re/Code
Kara Swisher started covering digital issues for the Wall Street Journal's San Francisco bureau in 1997. Her column, BoomTown, originally appeared on the front page of the Marketplace section and also online at WSJ.com.
Tuesday, August 19, 8:35 a.m.
Nic Chahine (@racernic), Creating income with options spreads
Nic Chahine will join the show every Tuesday to discuss the week's options outlook.
9 a.m.
Vlad Karpel (@tradespoon), Founder of Tradespoon
Vlad Karpel is a veteran investor and former OptionsXpress EVP.
9:20 a.m.
Cate Long (@cate_long), Reuters Financial Blogger
Cate Long writes about the fixed income markets, including municipal bonds. She has worked for a number of years with industry standards organizations, regulators and Congress to help craft a more transparent and fair framework for investors to participate in the fixed income markets
Wednesday, August 20, 8:35 a.m.
Harlan Pyan (@AllAboutTrends), Co-Founder of All About Trends
All About Trends is a subscription-based newsletter service focused on helping individuals secure consistent profits in the market by trading what they see, not what they think, hear or fear.
9 a.m.
Sang Lucci (@sanglucci), Founder and Head Trader at Sanglucci.com
Anand Sanghvi, aka "Sang Lucci," has successfully traded equities and options since 2006, beginning his career as a proprietary trader at PTG Capital. After serving as head trader, he left in 2009 to trade his own account. He infamously turned $50,000 into over $2,400,000 and soon thereafter founded Sanglucci.com, a website specializing in the education of options traders and tape readers from around the world.
9:15 a.m.
Kate Stalter (@KateStalter), Investment Advisory at Portfolio Wealth Advisors and Columnist for Forbes and Real Money
Kate Stalter has showed people how to trade stocks using technical analysis for years. These days, as an investment advisor with Portfolio, she helps people -- especially Baby Boomer women and Gen X women -- make better money decisions. You can also find her at www.bettermoneydecisions.com, www.RealMoney.com and at www.morningstar.com/advisor.
9:30 a.m.
Russell Rhoads (@RussellRhoads), Senior Instructor with the Options Institutes at the Chicago Board of Options Exchange
Russell Rhoads is a chartered financial analyst and joined the Institute in 2008 after a career as an investment analyst and trader with a variety of firms including Highland Capital Management, Caldwell & Orkin Investment Counsel, TradeLink Securities and Millenium Management. He is a financial author and editor having contributed to multiple magazines and edited several books for Wiley publishing.
Thursday, August 21, 8:35 a.m.
Fari Hamzei (@HamzeiAnalytics), Founder of Hamzei Analytics
Fari Hamzei joins the show every Thursday, bringing his wealth of knowledge on aggressive equity options and index futures trends.
9 a.m.
Michael Hewson (@mhewson_CMC), Chief Market Analyst at CMC Markets
Michael Hewson holds more than 20 years' worth of experience of trading the markets, and specialises in technical analysis. His background is in foreign exchange trading. Before joining CMC Markets, he spent more than 12 years working with market data, delivering education and support functions to diverse audiences -- from experienced traders and private investors, to corporate and retail clients.
9:20 a.m.
Kiana Danial (@InvestDiva), CEO of Invest Diva
Kiana Danial is the CEO of Invest Diva and author of Invest Diva's Guide to Making Money in Forex. She is a multilingual forex analyst, award-winning speaker, TV personality and entrepreneur based in Japan.
Friday, August 22, 8:35 a.m.
Sean Udall (@UdallTechStrat), Tech Stock Strategist
After nearly doubling his money on NVLS Systems in the early 1990's, Sean Udall has been hooked on tech stocks ever since. His more than 20 years of experience working for some of the biggest firms in the country (Morgan Stanley, Salomon Smith Barney), managing over $350 million in client assets, and writing prolific content on the tech sector
9:20 a.m.
Lydia Idem Finkley (@faithmight), Forex Trader and Author of FaithMightFX.com
Lydia Idem Finkley has been investing in equities for 18 years and actively trading currencies for seven years. With a special feel for sterling, Lydia trades exclusively GBP currency pairs, particularly the GBPUSD and EURGBP.
View Comments and Join the Discussion!
Posted-In: Benzinga #PreMarket Prep Cate Long Fari Hamzei Greg Harmon Greg MichalowskiEducation Pre-Market Outlook General Best of Benzinga