#PreMarket Prep Guest List For The Week Of August 4, 2014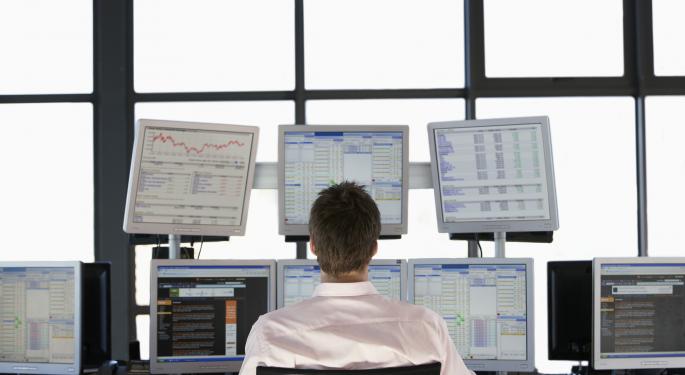 Another exciting week of new and familiar faces on Benzinga's #PreMarket Prep broadcast, sponsored by OptionsHouse.
There will be another book giveaway! But you have to tune in at 8:00 a.m. EST Monday-Friday here to find out which day.
Monday, August 4, 8:35 a.m.
Lawrence McDonald (@Convertbond), NYT Bestselling Author, Co-Founder of Convertbond.com
Lawrence McDonald is the former vice president of distressed debt and convertible securities trading at Lehmen Brothers. He is the author of A Colossal Failure of Common Sense: The Inside Story of the Collapse of Lehman Brothers.
9 a.m.
Phil Davis (@philstockworld), Founder of Phil's Stock World
Phil's Stock World is a stock and options trading site the provides education for trading novices and strategies for seasoned veteran traders. Phil Davis is a serial entrepreneur and the president of M&A consulting firm Delphi Consulting Corp.
9:20 a.m.
Jeffrey Barron, Analyst at the U.S. Energy Information Administration Office of Energy Markets and Financial Analysis
Jeffrey Barron is a contributor to various analysis products the EIA releases, namely the Market Prices and Uncertainty Report, This Week in Petroleum, Short-Term Energy Outlook and Today in Energy.
Tuesday, August 5, 8:35 a.m.
Nic Chahine (@racernic), Creating income with options spreads
Nic Chahine will join the show every Tuesday to discuss the week's options outlook.
9 a.m.
Paul Bratby (@pbrat40plus), Founder of wave5trade.com
Paul is an ex-British Soldier who served 17 years as an engineering manager in the British Army. He has been trading his own pension and savings accounts for more than six years and last year launched his online trading diary in the form of a blog at www.wave5trade.com.
9:20 a.m.
Scott Leonard (@LiberatedCEO), Author of "The Liberated CEO"
Scott Leonard, CFP, is the owner of Navigoe Inc., a registered investment advisor with offices in Nevada and California.
Wednesday, August 6, 8:35 a.m.
Harlan Pyan (@AllAboutTrends), Co-Founder of All About Trends
All About Trends is a subscription-based newsletter service focused on helping individuals secure consistent profits in the market by trading what they see, not what they think, hear or fear.
9 a.m.
Sarah Potter (@shecantrade), Options and Futures Trader
Sarah Potter is the owner of Shecantrade.com and the author of How to Trade Like a Pro.
9:20 a.m.
Gregg Greenberg (@5GsOnTheStreet), Writer for TheStreet
Before joining TheStreet, Gregg Greenberg was a writer and segment producer for CNBC's Closing Bell. He previously worked at FleetBoston and Lehman Brothers in their Private Client Services divisions, covering high net-worth individuals and mid-size hedge funds.
Thursday, August 7, 8:35 a.m.
Fari Hamzei (@HamzeiAnalytics), Founder of Hamzei Analytics
Fari Hamzei joins the show every Thursday, bringing his wealth of knowledge on aggressive equity options and index futures trends.
9 a.m.
Angie Maguire (@GoddessofGrain), Vice President of Grain for Citizens Elevator
Angie Maguire has been working in the grain industry for more than 10 years. After beginning her career as a cash grain broker, she transitioned into a position as vice president of grain for Citizens Elevator in Charlotte, Mich. At Citizens, she manages five elevator locations as well as a state-of-the-art on-farm program bringing the company's overall yearly handling to more than 11 mbu.
9:20 a.m.
Justin Pulitzer (@JustinPulitzer), Prop Trader
Justin Pulitzer is a New York City-born and raised self-directed swing trader. He attended New York University's Stern School of Business and holds degrees in finance and marketing. He's been trading since the late 1990s, when he was in his late teens. Justin's specialty is in premium sales option trading, as well as directional trade over multiple time horizons.
Friday, August 8, 8:35 a.m.
Andrew Keene (@KeeneOnMarket), Founder of KeeneOnTheMarket
Andrew Keene is the author of Trade to Win Using Unusual Options Activity, Volatility, and Earnings. Prior to founding KeeneOnTheMarket.com in 2011,Keene worked as a proprietary trader at the Chicago Board Options Exchange.
9 a.m.
Karl Setzer (@ksetzergrains), Grain Market Analyst at MaxYield Grain
Karl Setzer has spent his entire life and professional career in farming and remains a farm kid at heart. Setzer spends much of his day hedging MaxYield's grain position and coaching our Grain Solutions Team in client risk management.
View Comments and Join the Discussion!
Posted-In: Andrew Keene Angie Maguire Benzinga #PreMarket Prep Fari Hamzei Gregg GreenbergEducation Pre-Market Outlook General Best of Benzinga