Why You Could Short Groupon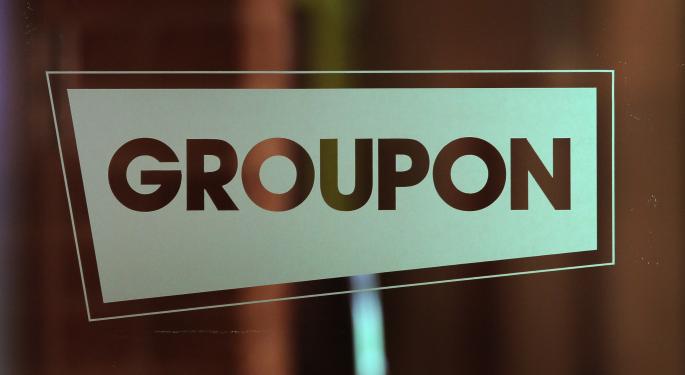 ---
While it's usually not a good idea to fight the tape, there are always some company-specific short opportunities during bull markets. This week, Groupon (NASDAQ: GRPN) gave a technical sell signal. For the right price, it is a great short trade.
GRPN is breaking down quickly from a technical perspective. The stock has struggled mightily since hitting highs in mid-September. What looked to be a modest pullback in early-October is now a clear short-term downtrend. GRPN has closed in negative territory for five straight sessions (going on six this morning) and crashed through short-term support around $10.15 on Tuesday.
There is gap support dating back to early-August at $9.45, but a dip below that price would likely cause GRPN to slip down to $8.72, where the gap originally opened. Thus, a good spot to enter the short is $9.45 or below.
Taking a look at GRPN on a weekly basis, it is clear that the longer term trend of higher highs and higher lows has clearly been violated, which is never a good sign for an individual stock during a bull market (see picture #2).
There has also been some chatter this week that GRPN's fundamentals could be a risk moving forward. The company is currently overvalued on its Price/Cash Flow and Price/Book metrics relative to its sector's top quintile. While this isn't a huge cause for concern, it certainly doesn't help, especially when analysts start voicing their own concerns.
On Tuesday, ITG Investment Research said that GRPN's "August slowdown got worse in September, which has created a risk to estimates." This notion spooked investors ahead of GRPN's conference call on November 7, increasing the severity of the current sell-off.
So, while GRPN certainly could base at $9.45 and establish new support, a dip below this price would be ideal for shorting the stock down to $8.72.
The technical picture and fundamental risk are not in GRPN's favor, so we would be sellers of this online coupon retailer despite the broader market's current bull run.
When to Consider Entering the Trade:
Short at $9.45 or below.
When to Consider Exiting the Trade:
At a close above $9.86 (Cover) / A close below $8.72 (Profit-Taking)
Disclosure: At the time of publication the editor and affiliated companies own the following positions: None
Note: Positions may be bought or sold while this publication is in circulation without notice.
Groupon Inc - Last 30 Days

Groupon Inc - Last 3 Months

Groupon Inc - Last 6 Months

Posted in: Education Short Ideas Trading Ideas General Best of Benzinga