The Future Of For-Profit Colleges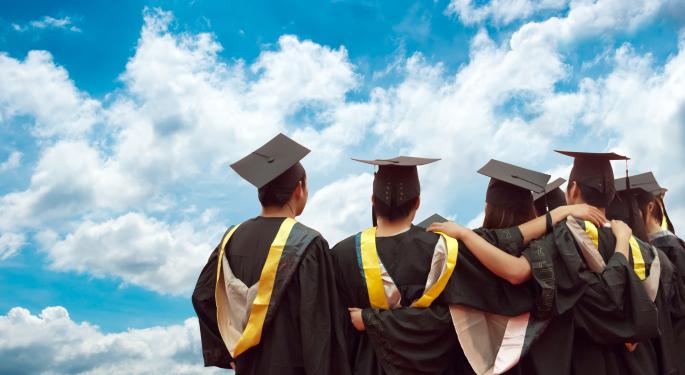 One of the latest and greatest investment trends over the last several years has been for-profit colleges. 
Investors and shareholders have reaped huge returns on the money they have put into for-profit institutions of higher education but it appears as though that world is going the way of the dot-com.
The University of Phoenix (NASDAQ: APOL) is the largest and most profitable for-profit college in the country which makes it the largest in the world. In October of 2012, however, the university's parent company, Apollo Group Inc., announced to its investors that its fourth quarter net income had dropped sixty percent from the previous year.
Costs were steadily increasing and new student enrollment had fallen 13 percent. As a result, the decision was made to layoff nearly five percent of its total staff and close over half of the university's off-line campuses. The day after that announcement was made, the University of Phoenix stock fell twenty-two percent and in the year that has passed it has not stopped falling.
The University of Phoenix is far from the only for-profit college that is experiencing extraordinary economic hardship but it is the most prominent. Strayer University (NASDAQ: STRA) and ITT Tech (NYSE: ESI) are also in the for-profit education business. After years of significantly increasing enrollment, the last three years in particular have witnessed a steady decline for the entire industry and the decline is accelerating.
At this point, it is still too early to tell if this is a temporary setback and that investors should patiently wait for a turnaround or if this is a sign of things to come.
There is reason to believe that, unfortunately, this could be the bursting of a once very strong economic bubble. Since the early 2000s the college enrollment rate in general in America began to rise substantially as members of Generation Y started graduating from high school and going to college. Student loan and grant funding was being significantly reduced by individual states and as a result less expensive school began to see their enrollment numbers spike.
All of this was happening right around the time that online technology started to come into its own and the world in general and America in particular began to see how much could be done over the internet – including earning a college degree. Students who could not get into traditional two- and four-year institutions as well as working adults who wanted to start, continue, or finish their college education found a viable option in the burgeoning online education industry. Business was indeed booming.
It has been over ten years since that boom began – plenty of time for that generation, or at least the bulk of it – to finish their educations and move on. Another similar boom is not expected anytime soon so it is difficult to say with any degree of certainty whether or not you should be saving your investment dollar for resurgence. But while U.S. student enrollment has dropped, for-profit schools are actively and heavily trying to recruit international students in an effort to reignite that industry.
Early reports show that it may be working as there has been the slightest uptick in overall enrollment in for-profits. But it is indeed still too early to tell so the future of the industry and a determination of whether or not it is a solid addition to your investment portfolio is just going to have to wait.
Posted-In: Education General Best of Benzinga
View Comments and Join the Discussion!