The Daily Biotech Pulse: Sanofi-GSK Land $2.1B Funding For Coronavirus Vaccine, D-Day For GW Pharma, FDA Nod For Roche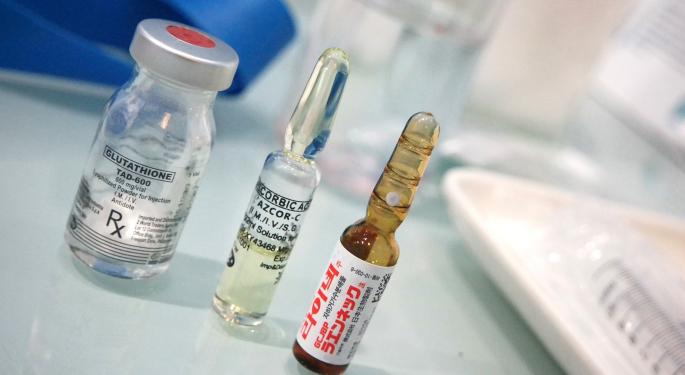 Scaling The Peaks
(Biotech Stocks Hitting 52-week Highs July 30)
Achieve Life Sciences Inc (NASDAQ: ACHV)
Annexon Inc (NASDAQ: ANNX) (IPOed July 24)
Atossa Therapeutics Inc (NASDAQ: ATOS)
Bio-Rad Laboratories, Inc. (NYSE: BIO)
Bio-Rad Laboratories, Inc. Class B (NYSE: BIO-B)
Catalent Inc (NYSE: CTLT)
Dr.Reddy's Laboratories Ltd (NYSE: RDY
Edesa Biotech Inc (NASDAQ: EDSA)(announced filing of an IND for a Phase 2/3 study of a COVID treatment candidate)
Hologic, Inc. (NASDAQ: HOLX)
Horizon Therapeutics PLC (NASDAQ: HZNP)
Immunic Inc (NASDAQ: IMUX)
Ligand Pharmaceuticals Inc. (NASDAQ: LGND)
Merit Medical Systems, Inc. (NASDAQ: MMSI)
NeoGenomics, Inc. (NASDAQ: NEO)
OraSure Technologies, Inc. (NASDAQ: OSUR)
Penumbra Inc (NYSE: PEN)
Precipio Inc (NASDAQ: PRPO)( announced a distribution agreement for its FDA-authorized COVID-19 serology antibody tests)
Repligen Corporation (NASDAQ: RGEN)
TIZIANA LF SCIE/S ADR (NASDAQ: TLSA)
Veracyte Inc (NASDAQ: VCYT)
Zoetis Inc (NYSE: ZTS)
Down In The Dumps
(Biotech Stocks Hitting 52-week Lows July 30)
Stocks In Focus
Pfizer/BioNTech Agrees to Supply 120M Doses of Coronavirus Vaccine to Japan
Pfizer Inc. (NYSE: PFE) and BioNTech SE – ADR (NASDAQ: BNTX) announced an agreement with the Ministry of Health, Labour and Welfare in Japan to supply 120 million doses of their BNT162 mRNA-based vaccine candidate against SARS-CoV-2, subject to clinical success and regulatory approval, beginning in the first half of 2021.
The companies have already signed agreements with the U.K. and U.S. governments for supplying BNT162.
Tiziana Applies For Patent For Nasal Administration of its Monoclonal Antibody as a Potential COVID-19 Cure
Tiziana said it has submitted a patent application for the potential use of nasally administered Foralumab, a fully human anti-CD3 monoclonal antibody, for the treatment of COVID-19, either alone or in combination with other anti-viral drugs.
The stock was soaring 47.53% to $7.30 in pre-market trading Friday.
Roche's Combo Therapy Gets FDA Nod For Skin Cancer
Roche Holdings AG (OTC: RHHBY) said the FDA approved Tecentriq plus Cotellic and ZelboraF for the treatment of BRAF V600 mutation-positive advanced melanoma patients.
Sanofi/GSK Gets $2.1B U.S. Government Funding For COVID-19 Vaccine Supply
Sanofi SA (NASDAQ: SNY) and GlaxoSmithKline plc (NYSE: GSK) announced an agreement with the U.S. government under the Operation Warp Speed project, for up to $2.1 billion in funding, more than half of which is to support further development of the vaccine, including clinical trials, with the remainder used for manufacturing scale-up and delivery of an initial 100 million doses of the vaccine. Sanofi will receive the majority of the funding.
The U.S. government has a further option for the supply of an additional 500 million doses longer term, the companies said.
Axovant Announces Manufacturing Supply Agreement With U.K. Gene Therapy Company
Axovant Gene Therapies Ltd (NASDAQ: AXGT) said its subsidiary has signed a three-year Clinical Supply Agreement with U.K.'s Oxford Biomedica plc, under which the latter will manufacture GMP batches for Axovant to support the ongoing and future clinical development of AXO-Lenti-PD, a clinical-stage gene therapy product to treat moderate to severe Parkinson's Disease.
J&J's Psoriasis Drug Gets Label Expansion; Coronavirus Vaccine Produces Positive Results in Pre-clinical Studies
Johnson & Johnson's (NYSE: JNJ) Janssen unit said the FDA approved an expanded indication for Stelara as a treatment for pediatric patients, who struggle with the skin lesions or plaques associated with moderate to severe plaque psoriasis.
Separately, J&J announced publication in the journal Nature results of preclinical studies of its adenovirus serotype 26 vector-based vaccine, which showed the investigational vaccine elicited a robust immune response as demonstrated by "neutralizing antibodies," successfully preventing subsequent infection and providing complete or near-complete protection in the lungs from the virus in non-human primates. The company expects to commence Phase 3 studies in September.
Earnings
Corvus Pharmaceuticals Inc's (NASDAQ: CRVS) second-quarter loss narrowed from the year-ago period but was wider than the consensus estimate.
The stock fell 6.32% to $4 in after-hours trading.
Opko Health Inc. (NASDAQ: OPK) said its second-quarter revenues increased from $226.4 million to $301.2 million. The company reversed from a loss of 10 cents per share to a profit of 5 cents per share.
The stock lost 6.09% to $5.55 in after-hours trading.
Emergent Biosolutions Inc (NYSE: EBS) reported a 62.3% year-over-year jump in second-quarter revenues and its adjusted EPS exceeded estimates. The company raised its 2020 guidance.
The shares were climbing 6.04% to $102.82.
Gilead Sciences, Inc. (NASDAQ: GILD) said its second-quarter revenues fell from $5.7 billion in 2019 to $5.1 billion in 2020. The non-GAAP EPS fell from $1.72 to $1.11, missing the consensus estimate of $1.45. The company raised its product sales and EPS guidance for the full year.
Gilead shares were retreating 3.43% to $69.85.
DBV TECHNOLOGIE/S ADR (NASDAQ: DBVT) reported a higher operating income for the first half but its net loss widened year-over-year.
The stock was advancing 8.05% to $4.16.
On The Radar
PDUFA Dates
GW Pharmaceuticals PLC- ADR (NASDAQ: GWPH) awaits FDA verdict on its sNDA for Epidiolex for the treatment of seizures associated with tuberous sclerosis complex.
Earnings
AbbVie Inc (NYSE: ABBV) (before the market open)
ImmunoGen, Inc. (NASDAQ: IMGN) (before the market open)
GlycoMimetics Inc (NASDAQ: GLYC) (before the market open)
View Comments and Join the Discussion!
Posted-In: Biotech Earnings News Penny Stocks Guidance FDA Top Stories Trading Ideas Best of Benzinga