Gilead Announces Pricing Of Coronavirus Treatment Remdesivir: 'We Believe All Patients Will Have Access'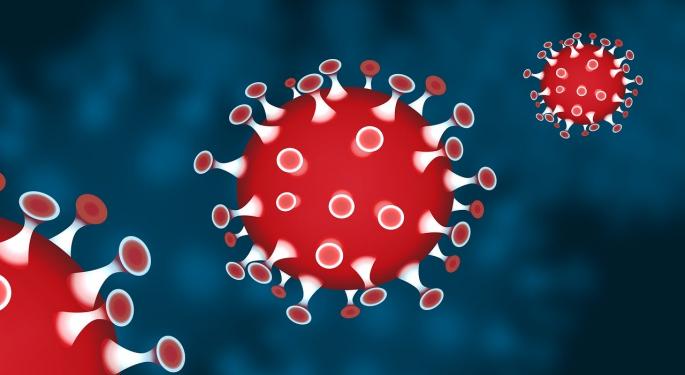 Gilead Sciences, Inc. (NASDAQ: GILD) announced pricing Monday for its antiviral remdesivir, which has been granted emergency use authorization by the FDA for treating COVID-19.
The Price Of Remdesivir: The biopharma has set a price of $390 per vial for the governments of developed countries, Gilead CEO Daniel O'Day said in an open letter.
A five-day treatment course using six vials of remdesivir is expected to cost a patient $2,340, which is well below the $12,000 hospital savings stemming from an earlier hospital discharge in the U.S., according to Gilead.
"The first results from the NIAID study in hospitalized patients with COVID-19 showed that remdesivir shortened time to recovery by an average of four days," the company said.
Gilead said the pricing will ensure broad and equitable access at a time of urgent global demand.
The Cost To Insurers: The same government pricing of $390 per vial will apply in the U.S. too.
Factoring in the discounts that government health care programs expect, pricing for U.S. private insurance companies will be $520 per vial or $3,120 for a five-day treatment course.
"At the level we have priced remdesivir and with government programs in place, along with additional Gilead assistance as needed, we believe all patients will have access," O'Day said.
BofA's Take: BofA Securities has been estimating the total cost of remdesivir treatment at $5,000, with potential price controls factored in, analyst Geoff Meacham said in a recent note.
Some bulls could be pricing based on a cost-savings approach, which Gilead can't likely charge if there was broad access, the analyst said.
Benzinga is covering every angle of how the coronavirus affects the financial world. For daily updates, sign up for our coronavirus newsletter.
What's Next: Gilead said it has entered into an agreement with the U.S. Department of Health and Human Services in which HHS and states will manage allocation to hospitals until the end of September.
After this period, once supplies are less constrained, HHS will no longer manage allocation, Gilead said.
Gilead has entered into agreements with generic manufacturers in developing countries to deliver treatment at a substantially lower cost.
The company also said it is continuing to explore the potential of remdesivir as a treatment earlier in the course of the disease; in outpatient settings; with an inhaled formulation; in additional patient groups and in combination with other therapies.
Gilead also said it remains focused on increasing supplies to meet the high global demand, and expects its investment in the antiviral therapy to exceed $1 billion by the end of the year.
GILD Price Action: Gilead shares were up 1.42% at $75.63 at the time of publication Monday.
Related Links: The Week Ahead In Biotech (June 28- July 4): Pending Clinical Readouts In Focus During A Short Holiday Week
Gilead Analyst Questions Remdesivir's Ultimate Upside As Study Begins For Inhaled Version
View Comments and Join the Discussion!
Posted-In: Coronavirus Covid-19 remdesivirBiotech News Health Care General Best of Benzinga