The Daily Biotech Pulse: EC Nod For Shire, Mirati Gets FDA Clearance For Cancer Drug Trials, PhaseBio's First Earnings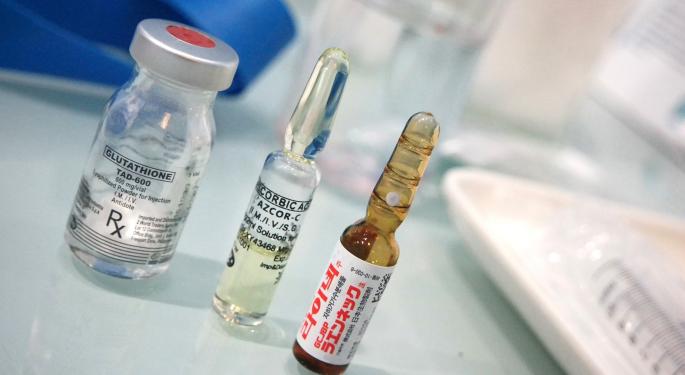 Here's a roundup of top developments in the biotech space over the last 24 hours.
Scaling The Peak
(Biotech stocks hitting 52-week highs on Nov. 29)
Down In The Dumps
(Biotech stocks hitting 52-week lows on Nov. 29)
See Also: The Week Ahead In Biotech: ASH 2018, PDUFA Dates, Clinical Trials And Earnings
Stocks In Focus
Celyad Doses First Patient In Early-stage Study of Colorectal Cancer Drug
CELYAD SA/ADR (NASDAQ: CYAD) said it has dosed the first patient in the Phase 1 alloSHRINK trial that is evaluating its non-gene edited allogenic CAR-T therapy CYAD-101, administered concurrently with FOLFOX chemotherapy in patients with unresectable metastatic colorectal cancer.
The company also said ONO Pharma, which had entered into a licensing agreement with it in July 2016 for developing CYAD-101 in Japan, Korea and Thailand, has informed now that it will no longer pursue development of the candidate in the said territories. Therefore, Celyad now has worldwide development and commercialization rights to CYAD-101.
Shire Gets Clearance For Marketing Drug to Treat Severe Swelling In Europe
Shire PLC (NASDAQ: SHPG) said the European Commission has granted Marketing Authorization for Takhzyro subcutaneous injection, for routine prevention of recurrent attacks of hereditary angioedema, or HAE, in patients aged 12 years and older.
The recommended starting dose is 300mg every two weeks but could be reduced to 300mg every four weeks in patients who are stably attack-free on treatment, especially those patients with low weight.
The drug has been approved for the same indication in the U.S. and Canada.
FDA Clears Mirati's IND Application For Solid Tumor Drug; Patient Enrollment to Begin In Jan'19
Mirati Therapeutics Inc (NASDAQ: MRTX) said the FDA has cleared its investigational new drug application for MRTX849, a small molecule inhibitor of KRAS-G12C, that's being developed for treating cancers driven by KRAS-G12C mutations.
The clearance allows the company to initiate its planned Phase 1/2 clinical trial in patients with advanced solid tumors that harbor KRAS G12C mutations. The company expects to enroll the first patient for the trial by Jan. 2019.
The stock rose 1.31 percent to $37.86 in after-hours trading.
PhaseBio Q3 Loss Widens
PhaseBio Pharmaceuticals Inc (NASDAQ: PHAS), which went public Oct. 18, released its first earnings report as a public company. The results revealed grant revenues of $411,000 for Q3 and a wider loss of $10.45 per share compared to a loss of $3.44 per share a year-ago.
Cash and cash equivalents at Sept. 30 were $24.3 million, compared to $13.4 million at Dec. 31, 2017.
The stock rallied 10.73 percent to $3.20 in after-hours trading.
Principia Reports Positive Mid-stage Trial Results For Skin Disease Drug
Principia Biopharma Inc (NASDAQ: PRNB) reported positive top-line results for the completed open-label Phase 2 trial of PRN1008 in patients with pemphigus.
Pemphigus is a group of rare skin disorders that cause blisters and sores on the skin or mucous membranes.
"The primary efficacy endpoint of the Phase 2 trial – Control of Disease Activity (CDA) within four weeks – was achieved by more than 50% of patients and PRN1008 was generally well tolerated," the company said.
It also initiated a Phase 3 trial of the candidate in pemphigus.
On The Radar
Clinical Trial Results
Histogenics Corp (NASDAQ: HSGX) is expected to present an update on potential BLA filing for its NeoCart being tested as a treatment option for cartilage defects in the knee.
OncoSec Medical Inc (NASDAQ: ONCS) is due to present Phase 2 data for its melanoma treatment candidate OMS-100 at the Melanoma Bridge Conference held in Naples, Italy.
Mustang Bio will present Phase 1 data for its acute myeloid leukemia candidate MB-102, at the American Association for Cancer Research Special Conference on Tumor Immunology and Immunotherapy.
View Comments and Join the Discussion!
Posted-In: Biotech Earnings News FDA Top Stories Trading Ideas Best of Benzinga