Catalyst Biosciences Shares Volatile On Positive Late-Stage Hemophilia Trial Results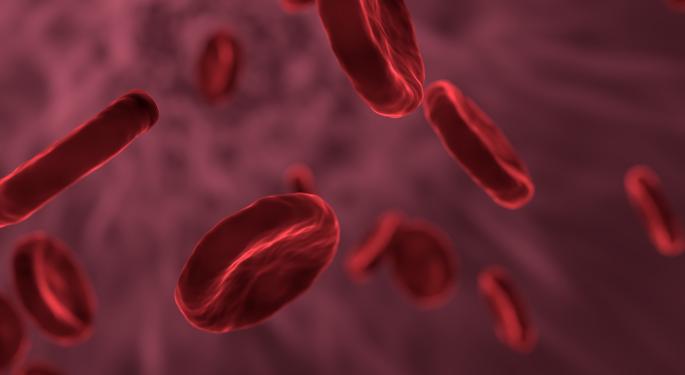 Catalyst Biosciences Inc (NASDAQ: CBIO) shares are on a volatile ride Wednesday following the release of late-stage trial results for its bleeding disorder drug candidate.
The shares, which were rallying over 27 percent at one point in premarket trading, were most recently seen trading up about 3 percent at $12.50.
What Happened
At the 64th Annual International Society on Thrombosis and Haemostasis Scientific and Standardization Committee meeting in Dublin, Ireland, Catalyst Biosciences presented interim data from a Phase 2/3 study of its hemophilia treatment marzeptacog alfa, or MarzAA.
MarzAA is prophylactic Factor VIIa variant administered subcutaneously, for hemophilia A or B.
The interim results supported the target of achieving significant reductions in annualized bleed rate, or ABR, the company said.
Catalyst also presented data from a Phase 1/2 trial of the Factor IX variant CB 2679d/ISU304 for hemophilia B. Two enrolled subjects achieved FIX trough activity levels greater than 30 percent, with one IV dose followed by nine daily subcutaneous doses. Both subjects developed neutralizing antibodies, according to Catalyst.
"We are moving forward with our analysis to determine the cause of the nAb development we observed in Cohort 6 and will provide further updates once the analysis has been completed," said Catalyst CEO Nassim Usman.
Why It's Important
Among the five subjects enrolled in the study of MarzAA, one patient with an ABR of 26.7 completed the study with only one bleed during 96 days of prophylaxis. With 60 microgram/kg MarzAA for 50 days of treatment, the patient experienced no bleeds, and with a lower dose of 30 microgram/kg, one bleed at day 46 was observed, the company said.
"Through a cumulative 160 dosed days, no antidrug antibodies to MarzAA have been detected to date," Catalyst said.
What's Next
Catalyst said it expects to open more trial sites and increase enrollments as the year progresses. The Phase 2 portion of the study is slated for completion by the end of 2018.
Related Links:
The Week Ahead In Biotech: Conferences, Clinical Trial Results, IPOs And More
Benzinga's Daily Biotech Pulse: Novartis Earnings, J&J's HIV Combo Clears FDA Hurdle, Cara To Offer Shares
Posted-In: HemophiliaBiotech News Events Trading Ideas Best of Benzinga
View Comments and Join the Discussion!