Benzinga's Daily Biotech Pulse: Johnson & Johnson to Dispose Sterilization Products Business, Mixed Results From Protesostasis' Cystic Fibrosis Study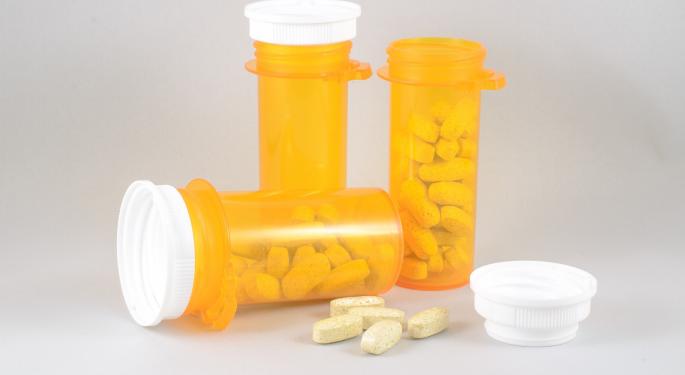 Here's a roundup of top developments in the biotech space over the last 24 hours.
Scaling the Peaks
(Stocks hitting 52-week highs on June 6)
AMAG Pharmaceuticals, Inc. (NASDAQ: AMAG)
Baxter International Inc (NYSE: BAX)
Beigene Ltd (ADR) (NASDAQ: BGNE)
BIO-TECHNE Corp (NASDAQ: TECH)
CareDx Inc (NASDAQ: CDNA)
CAS Medical Systems Inc (NASDAQ: CASM)
CONMED Corporation (NASDAQ: CNMD)
Champions Oncology Inc (NASDAQ: CSBR)
Cytosorbents Corp (NASDAQ: CTSO)
Eloxx Pharmaceuticals Inc (NASDAQ: ELOX)
Evolus Inc (NASDAQ: EOLS)
EXACT Sciences Corporation (NASDAQ: EXAS)
Genomic Health, Inc. (NASDAQ: GHDX)
Haemonetics Corporation (NYSE: HAE)
Insulet Corporation (NASDAQ: PODD)
Jazz Pharmaceuticals PLC (NASDAQ: JAZZ
Krystal Biotech Inc (NASDAQ: KRYS)
Laboratory Corp. of America Holdings (NYSE: LH)
Madrigal Pharmaceuticals Inc (NASDAQ: MDGL)
Medpace Holdings Inc (NASDAQ: MEDP)
MEI Pharma Inc (NASDAQ: MEIP)
ResMed Inc. (NYSE: RMD)
Oncolytics Biotech, Inc. (USA) (NASDAQ: ONCY)
Progenics Pharmaceuticals, Inc. (NASDAQ: PGNX)
Regenxbio Inc (NASDAQ: RGNX)
Rhythm Pharmaceuticals Inc (NASDAQ: RYTM)
TherapeuticsMD Inc (NASDAQ: TXMD)
Ultragenyx Pharmaceutical Inc (NASDAQ: RARE)
Verastem Inc (NASDAQ: VSTM)
Down In The Dumps
(Stocks hitting 52-week lows on June 6)
Achieve Life Sciences Inc (NASDAQ: ACHV)
Scpharmaceuticals Inc (NASDAQ: SCPH)
TrovaGene (NASDAQ: TROV)
Related Link: Attention Biotech Investors: Mark Your Calendar For These June PDUFA Dates
Stocks In Focus
Johnson & Johnson to Sell Sterilization Business to Fortive
Johnson & Johnson (NYSE: JNJ) announced a deal to sell its Advanced Sterilization Products, or ASP, business to Fortive Corp (NYSE: FTV) for $2.8 billion, with $2.7 billion in cash proceeds and the remaining $0.1 billion in retained net receivables. The ASP business fetched Johnson & Johnson $775 million in net revenues in 2017.
Fortive rallied 5.46 percent to $79.05 in after-hours trading.
Protesostasis Cystic Fibrosis Drug Trial Shows Issues With Safety
Proteostasis Therapeutics Inc (NASDAQ: PTI) announced data from the Phase 1, 14-day dosing study of PTI-801 in cystic fibrosis patients on background Orkambi (lumacaftor/ivacaftor) therapy, which showed improvement in sweat chloride and body mass index, the study's exploratory endpoints.
"At higher doses, PTI-801 demonstrated a statistically significant improvement in SC and BMI in the 14-day treatment period," the company said.
The improvement in ppFEV – reflective of lung function, though observed in all cohorts, was not statistically significant, the company added.
The stock plunged 15.92 percent to $4.12 in after-hours trading.
Common Stock Offerings
Viking Therapeutics Inc (NASDAQ: VKTX) announced offering of common shares for development of its VK5211, VK2809 and VK0214 programs.
Mirati Therapeutics Inc (NASDAQ: MRTX) announced intention for offering common share.
Pricing Of Common Stock Offerings
Zymeworks Inc (NYSE: ZYME) priced offering of 5.4 million shares at $15.75/share for gross proceeds of $300 million.
Madrigal Pharma priced offering of 1.347 million shares at $305/share for gross proceeds of $85.1 million.
Deciphera Pharmaceuticals Inc (NASDAQ: DCPH) priced offering of 4.3 million share at $40/share for gross proceeds of $172 million.
ImmunoGen, Inc. (NASDAQ: IMGN) priced its upsized offering of 13.7 million shares.
On The Radar
The following company reports earnings on Thursday:
Advaxis, Inc. (NASDAQ: ADXS)
FDA Tidbits
The FDA filed a compliant against Innovative BioDefense, which sells Zylast topical antiseptics, a hand sanitizer, by falsely claiming it offers protection against pathogens such as norovirus, rotavirus, flu virus, methicillin-resistant Staphylococcus Aureus and ebola.
View Comments and Join the Discussion!
Posted-In: Biotech Earnings News Trading Ideas Best of Benzinga