A Brief Timeline Of The Bill Ackman-Valeant Relationship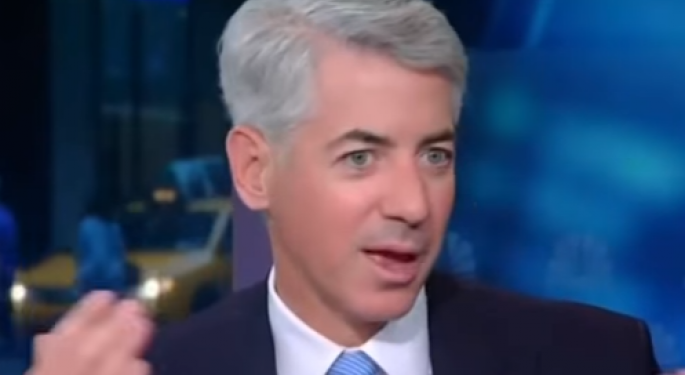 After a headline-filled tenure, Bill Ackman's investment in Valeant Pharmaceuticals Intl Inc (NYSE: VRX) is over.
As first reported by CNBC and TheStreet, and later confirmed to Benzinga, the activist investor's firm Pershing Square sold its 27.2 million share position at $11 per share, thus ending one of the most newsworthy investments of recent memory.
Here now, is a brief timeline of the Bill Ackman—Valeant relationship.
March 9, 2015: Reports surface Ackman has acquired a $3.3 billion stake, or 5 percent, of Valeant. At the time, that made Pershing Square the company's fifth-largest shareholder. Valeant closes at $204.69.
March 25, 2015: Ackman increases his position to 19,473,933 shares of Common Stock for a 5.7 percent stake. It made him Valeant's second-largest shareholder, and accounted for nearly 25 percent of the firm's portfolio. Reuters reports Ackman is committed to a passive stake. Valeant closes at $197.0.
October 6, 2015: After the stock tumbles 10 percent following news it increased the price of its drugs by an average of 66 percent, Ackman publicly defends the company, stating on Bloomberg it has a "competitive advantage," and is running "one of the most efficient" operations in the healthcare sector.
October 21, 2015: Ackman increases his stake, buying roughly 2.1 million more shares and bringing his total stake to 21.6 million shares. At this point, Pershing Square has lost nearly $1.8 billion on its Valeant investment.
October 30, 2015: On a conference call, Ackman says he'd buy more Valeant stock if he had the capital. That day, the stock closes at $93.77, down 54 percent from his original investment.
March 15, 2016: Pershing Square loses $666.7 million in a single day as Valeant undergoes a 45 percent post-earnings selloff. Conservative estimates put Ackman's loss on the trade at $2.6 billion. In response, Ackman begins liquidating other top holdings, such as Air Products & Chemicals, Inc. (NYSE: APD), Canadian Pacific Railway Limited (USA) (NYSE: CP), and Mondelez International Inc (NASDAQ: MDLZ).
March 21, 2016: Valeant announces the ouster of CEO J. Michael Pearson and that Ackman will join the company's board of directors. The stock rallies to $28.98.
April 27, 2017: In a Senate testimony, Ackman says his first priority will be to make sure the company doesn't go bankrupt.
May 2, 2016: When asked on CNBC whether he regrets his initial investment, Ackman comments "of course."
June 7, 2016: Pershing becomes Valeant's largest shareholder, after notable investors T. Rowe Price and ValueAct Capital cut their stakes.
June 21, 2016: Valeant stocks drops to $21.41, its lowest level since 2010.
July 14, 2016: Ackman goes on CNBC and defends the company, saying it will not have to sell of its core assets.
December 13, 2016: Pershing Square discloses a sale of 3.477 million shares, worth $51.7 million, to generate a tax loss in 2016 for their investors. The sale reduces Pershing's stake in the company from 9 percent to 7.8 percent.
March 13, 2017: Ackman sells out of Valeant entirely and announces he's leaving the board. The stock drops 10 percent on the news. All told, Pershing Square loses nearly $4 billion on its Valeant investment.
Image source: CNBC appearance
View Comments and Join the Discussion!
Posted-In: Bill Ackman Pershing SquareBiotech News Hedge Funds Movers & Shakers Top Stories General Best of Benzinga